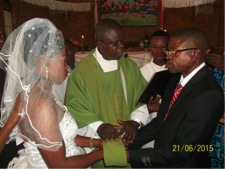 Sunday 21 June 2015 was a special day for the Foyer Louis de Gonzague, a Jesuit organization for people living with HIV in Kikwit, western DRC. Fr Crispin Mukiay celebrated the marriage of Richard Lumbidi and Liliane Bundu, two members of the Foyer. Fr Crispin describes the event as "a sign of faith and hope in life and love". Richard shares his moving testimony:
I am Richard Lumbidi, the father of six children, and secretary of the Coordination of Catholic Schools in Kikwit. I am living with HIV and have been a member of the Foyer Louis de Gonzague since 2009. 
For me, everything started with the illness of my wife Martine, who suffered repeatedly from fever, coughing, shingles, TB and skin problems for five years, before dying on 5 March 2009. At the time, I didn't know it was AIDS that had killed her slowly.
After her death, Fr Jean-Baptiste Mimunu, who was then coordinator of the Foyer Louis de Gonzague, urged me to take an HIV test. Thanks to the Foyer, I did the test, and discovered that I was HIV-positive, even if I had no symptoms as yet. Fr Jean-Baptiste took care to raise my morale, helping me to understand that these days, it's possible to be HIV-positive and to live normally, as long as you follow your treatment and the doctors' advice. So just over a month after my wife died, I started taking antiretroviral medication (ARVs).
I must say I never imagined I'd be able to overcome the countless things that were stressing me. The side effects of the ARVs, combined with my worries and experience of solitude, gnawed away at me. I worried especially about my deceased wife, about the fate of my children after my death, which I believed to be imminent, and about remarrying, which I felt had now become impossible. 
Meanwhile, apart from the moral support of Father, the Foyer guaranteed nutritional, psychological and medical care for me.
One day, Father took me to a meeting about AIDS organized by the Foyer. It was then I realized that I wasn't alone in living with HIV. There were teachers, businessmen, nurses in that room – in short, all sectors of society were represented there. Bit by bit, my fears and stress started to disappear. This is how I emerged from anonymity and started to lead a normal life. 
My life is positive now because I know how to protect myself and others. Thanks to the Foyer Louis de Gonzague, my dream of living once again has come true. I found another woman who is also living with HIV and who has a similar story to mine. Fr Crispin, currently coordinator of the Foyer, encouraged us to go ahead with our plan to get married in church.           
It was he who blessed our marriage, which completed our joy and that of our families. Our joy was all the greater when a significant number of people living with HIV showed us their support by turning up for this unforgettable occasion.
On 24 June, the Foyer organized a party for the newly married to celebrate with other people with HIV who couldn't make the church ceremony. And so my wife Liliane and I experienced the infinite love of God, true fraternity and the support of everyone. Everything is grace!
"What God has united, let no man separate."