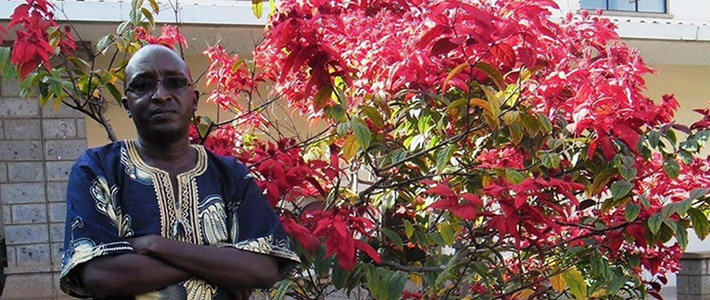 30 September 2016 – We asked the team at AJAN House to share their tributes to their much-loved colleague Titus, which we republish here:
"A true man for others full of humility, professionalism, wisdom, hospitality, respect and humour, this is the memory I keep of Titus.  With his passing on, I am losing not only a workmate but also a special friend. The news of reached me while I was away and less than 36 hours after we spoke on the phone after his admission to hospital. It was a very shocking experience as things went too fast and irreversibly.
Titus showed dedication, kind attention, love and care through his work. In fact, he was among the pioneers at AJAN. When I was newly appointed, he gave himself the duty to share with me the history of the institution. When I came from field project visits, he would pass by my office to say hi and check on my journey. He was very close to me when my mum was suffering and living her final hours. He even named his last daughter after my late mum. His hospitality was legendary. Many of our long-term residents and guests, including me, had been invited to share a meal with his family.
One day he shared with me his plan to move on from AJAN by the end of this year… Is that the plan, taking us all off-guard? May he now rest in the eternal peace of our Lord and be the advocate of his family and AJAN next to God our Father."
Fr Paterne Mombe SJ, AJAN director
***
"This is the most difficult document I have ever written. Your death continues to have a profound impact on me. I can't seem to or should I say I refuse to believe that you are no longer with us. Having worked together in the same department makes me miss you the more. Every day I feel the void that you left, a myriad of emotions always cross my mind. I must however say that I find encouragement in the Bible: 'Blessed are those who die in the Lord, yes, says the Spirit, they are blessed indeed. For they will rest from their hard work, for their good deeds follow them.' (Rev 14:13)
Titus was a devoted Christian, and a very hardworking person, always committed to his work and family. He made sure that whatever he desired to do, he did to the best of his ability. We will all miss him but his spirit will linger forever with us. Goodbye my friend till we meet again to part no more. Sleep well in God's loving arms and I pray that God comforts your family and everyone else who loved you."
James Karume, security

***
"Apart from being optimistic and a go-getter, Titus was courageous and very ambitious and that's why I will miss him so much. He used to make the best tea ever. He would always look at me and tell me, 'Rose, don't worry, everything is going to be okay.' Titus, I will miss you. May you rest in eternal peace."
Rose Kamuu, cleaner

***
"I have known Titus to be a people's person, one who has been the voice of the 'voiceless'. He would not keep silent at an injustice. Many are the times we used to recognise him as the staff spokesperson.
The AJAN Family has lost a dedicated person, one who we will miss for his vast experience in the day-to-day running of activities. I still find it hard to believe that I will not find him at work during his shift. To me it's like he has taken a vacation, and only when days go by, will I be convinced that he is not coming back anymore.
As a friend, he was very welcoming. He could offer invitations to visit his place, every time he moved. I am sad to visit his home now; how I wish I had gone while we could still chat together. To me, he was an elder brother, who would give me a lot of advice, mostly on development issues. He was an inspiration that made me yearn to move another step forwards in life."
Michael Ndonye, finance administrator

***
"Titus, it's so sad that you had to leave us this soon. Apart from missing you, we will definitely miss your jokes. May you rest in peace and may God bless your family."
Peter Wainaina, driver

***
"Tito, you were a man of honesty, truthfulness, and a friend who stood by what was right for people. You would always ask for fairness of everyone. It is with humble acceptance of God's will that we hope you rest in eternal peace."
Joseph Mukua, cook
*** 
"Titus was my best workmate, advisor and brother, sociable with everyone, a great man, hardworking, my mentor and much more. I will miss him."
Peter Emeje, night guard
***
"I would like to send my condolences to the family of my friend and workmate, Titus Mbugua. He was more than a brother to me and I would always seek advice from him whenever I felt low. I will miss his companionship."
Enock Omwoma, night guard
*** 
"It is so saddening to lose such a hardworking, determined, loving and generous colleague and friend like you. A man who had his work and family at heart and always aimed at encouraging others, as well as giving advice on how to be successful in life, despite the challenges. I thank God for your life and the time he allowed us to share with you. And I pray that your young and beautiful family gets the strength to overcome the grief that has befallen them, through the love of family and friends."
Doreen Cachela, librarian

***
"Titus, you were well loved and admired for your enduring commitment to work for people; and your warm and courageous heart for supporting those who suffer. I will remember you for the way you carried out your work, as one of your defining characteristics has always been respect – respect for the individuals walking into our offices, respect for the vulnerable individuals and communities we serve, and respect for the law and human rights."
Collins Osanyo, intern
***
"We had you among us as a brother and a friend. Your ever smiling face will never part from our minds. May the good Lord give you eternal rest. Amen."
Gilbert Lasway SJ, on placement
***
"My enduring memory of Titus is of a wise, dedicated and pragmatic colleague. He would not miss the opportunity to say a kind word about his family and about the plans he had for his children.  He was 'a walking encyclopaedia' of AJAN's institutional history and would always draw from the rich experiences gained from his long period of engagement with the organization. Titus had warmth when performing his duty and was self-effacing to a fault. On the Saturday before his demise, Titus mentioned that he was unwell but went on with his work. When I left that afternoon, he still seemed unwell but as always cracked a joke or two before we parted ways."
Moses Were, report writer
***
"Titus was a colleague, a great friend with a great personality. He had a way of making me laugh or smile regardless of how upset I might be. I will remember him for the many light moments when he would use heavy Kikuyu proverbs and elaborate their meanings for me, still using heavy vocabulary! I learned a lot from him."
Pauline Wanjau, AHAPPY program manager
*** 
"Titus, our tears and emotions cannot be enough to express what we feel when we hear that you are no longer among us. You were with us as an elder brother who cared every day and every time about the importance of being together but now, you have left us as orphans. We will miss you, Titus! But our faith in Jesus Christ, who defeated death and in whom we believe, will raise you from the dead and we will meet again and we will be together. Titus you have only preceded us! Death doesn't have the last word, it's just a passage from this world to heaven where we will all meet. Titus see you! Titus Kwaheri! Titus tutaonana."
Amede Taroh, Jesuit regent and AJAN assistant director
***
"Titus, I might have known you for a short time but I feel like I had known you forever, all because of the unique attitude you had to life, which made even the strongest of introverts come out and join in a discussion. Go in peace Titus, until we meet, we shall forever cherish the moments we shared."
Beryl Itindi, assistant to AJAN director
***
"Titus was a down-to-earth gentle-man. He was the Solomon (wise man) among us and was always amicable with anyone who came in contact with him. I will miss him so much…"
Maurice Oduor, data collector