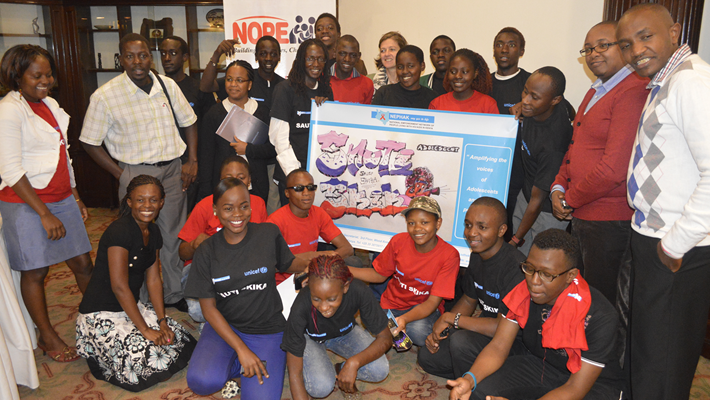 Florence Anam from Kenya is Advocacy and Communications Manager of the International Community of Women living with HIV (ICW). She is a long-time collaborator of AJAN, a relationship that dates back to her work with Kenya's National Empowerment Network of People Living with HIV (NEPHAK).
Many young people living with HIV are dying AIDS-related deaths. This is what latest evidence reveals. Poor or lack of adherence to Anti-Retroviral Therapy (ART) has been identified from our interactions with youth as the reason why we lose many of them. ART is important for ensuring viral suppression and improved quality of life for persons living with HIV. Socio-economic pressures weigh heavy on them too, affecting their self-confidence. How can we help them to THRIVE and LIVE with HIV?
There is no doubt that positive milestones and incredible lessons have been learned in recent years. In 2014, while working at the National Empowerment Network of People Living with HIV (NEPHAK), I was part of a team of stakeholders driven by the shared need to stop new HIV infections and AIDS-related deaths, especially among adolescents and young people.
As we brainstormed on the best way to respond, we grappled with questions like: Where do we find adolescents and young people living with HIV? How do we engage them? We were armed with passion and the need to learn. Within six months, not only were we engaging with adolescents and young people living with HIV, but supporting them to identify their leadership and to mobilise.
The 'Sauti Skika' (Amplify our Voice, pictured above) movement was birthed and has since grown into a national phenomenon. Policymakers and practitioners got excited, but I doubt they were more excited than the young people themselves, who for the first time had an opportunity to speak and be heard. Motivated, they mobilised in numbers, made us listen, told us how best we could support them to get united, informed and empowered. 
This focus, coupled with a supportive political and stakeholder environment, has led to great milestones. The President of Kenya himself champions the reduction of stigma, and there are targeted media messages and improved access to services for young people living with HIV among others.
And yet young people living with HIV are dying. This news has elicited concerns among policymakers, healthcare providers, parents and guardians, networks of persons living with HIV, and other stakeholders. What are we doing wrong? What more do we need to do? Are we listening right to what the young people are telling us? What support mechanisms do adolescents and young people need to adhere to care and treatment and to live long and healthy lives? 
In October 2016, I started moderating a support group for women and girls living with HIV. I know what that a monthly meeting can do for one's will to live, confidence and positive change in attitude. I was optimistic that our meetings would not only provide a safe space to share experiences, but an opportunity to ask questions or seek clarification about treatment and to access care for any needs identified.
This support group is largely attended by young people and I must say that acting as moderator has been quite an eye opener. The young people seem to be challenged by socio-economic pressures that seriously impact how they value themselves and their lives. They want a safe space, free from judgement, where they can discuss topics that range from how to keep their HIV status confidential, how to manage stigma against them, how to get into, stay in and manage relationships, how to handle disappointments, low or lack of economic capacity… the list goes on. 
Undoubtedly, although we have made significant scientific and biomedical strides to address HIV prevention and treatment, we are not progressing in the same way to address structural and behavioural issues.  Yes, medicines are here, and they work well to help us, however they do very little to build our self-confidence, or to generate resilience to socio-economic pressures that affect all young people but particularly those living with HIV.
There is one more question we need to ask. We have set out to find adolescents and young people living with HIV, and we are supporting them to build and strengthen their networks.  What then should we purposefully do with all these young people now that we have found them?
What interventions could have a lasting impact on their ability to be resilient and thrive in the world and to live healthy and fulfilled lives? It is only when we can answer these questions truthfully, and set out to meaningfully engage adolescents and young persons, that will we be on track towards ending AIDS in 2030.