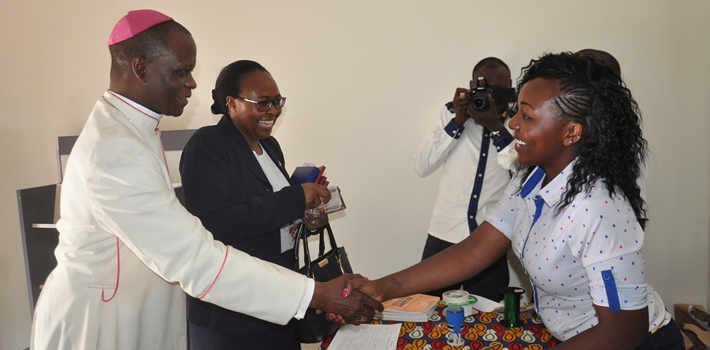 On 24 March, AJAN launched its updated AHAPPY manual during an event held at the Paulines Communication Centre in Westlands, Nairobi.
Fr Elphege Quenum SJ, the Director of AJAN, said that the manual, which is published by Paulines Publications, intends to lead young people to an AIDS-free generation, empowering them to make informed and responsible choices and equipping them with knowledge, life skills and values.
The manual is the backbone of AHAPPY, a program geared towards integral youth development that was created by AJAN and is being rolled out in Catholic educational institutions across sub-Saharan Africa (see also AHAPPY goes from strength to strength).
While officially launching the book, Bishop Maurice Muhatia Makumba of the Catholic Diocese of Nakuru and chairman of Kenya Conference of Catholic Bishops' Commission for Education, offered assurance of the support of the bishops' conference to fight the spread of HIV and AIDs among youth. 
"It is now clear that the next synod of bishops is going to focus on youth and vocation, showing clearly the Church's continued pastoral concern for the young people," said Bishop Makumba.
 "We can no longer afford to talk about the youth without doing anything practical to address the deepest aspirations, anxiety, regrets, difficulties and challenges."
The AHAPPY book is available at Paulines bookshop and Catholic bookshops in Kenya.
(Report drawn from Catholic Information Service for Africa – CISA)