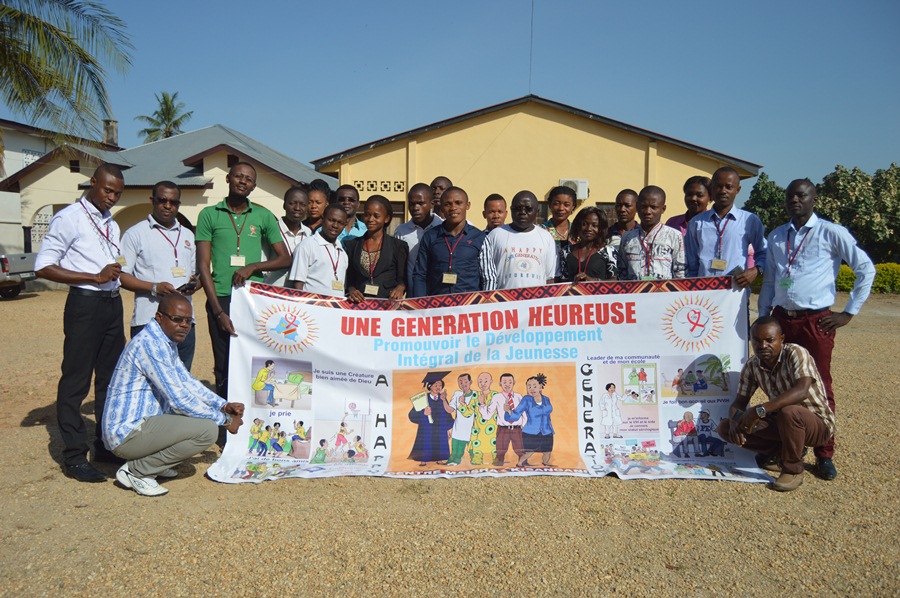 Democratic Republic of Congo (DRC), 14th April – 22nd April 2018: In the month of April 2018, AJAN conducted one week AHAPPY Training of Trainers (T.oT) training in Kisangani, Democratic Republic of Congo (DRC). 23 youths (among them seven females) were trained on AHAPPY Modules. The training supplements the first phase of the training conducted by AJAN in 2014. Trained youth are expected to roll out similar AHAPPY trainings at the Catholic parishes of the Vicariate city of Kisangani and its surroundings.
The T.o.T training was conducted by AJAN Director Fr. Elphège Quenum S.J and his deputy Fr. Jean Charles Kubanabantu S.J. Participants were awarded certificate of participation and affirmed their commitment to educate the youth to make informed decisions about their lifestyle and sexual behavior. "I am very happy that AJAN kept the promise to come back and finalize the training with us. Now I truly feel that I am well informed even as I go out to encourage my fellow youth about what they can do to minimize HIV/AIDS infection" said one participant.
AHAPPY trainings is a series of AJAN's HIV/AIDS youth friendly education trainings conducted across Africa to empower the youth by influencing favorable behaviors which seek to reduce HIV infection amongst the youth.