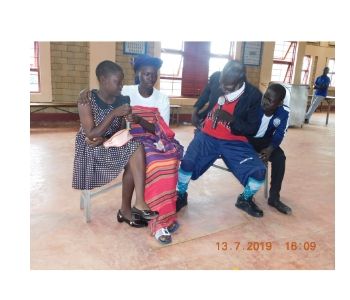 Through Saturday of 13th July 2019, exciting music presentations, original compositions, poems, vivacious debates and open deliberations and discussions on key emerging issues and concerns in HIV and AIDS in Uganda exemplified an intense motivation by students in Gulu on combating the plague.
The above are congruent with applied learning principles of engaging activities that AHAPPY program employs against HIV and AIDS in Africa. This is always aimed at enhancing the transfer of knowledge and practical application of what is learnt. The symposium was organized by Mr. Robert Toolit, a teacher at Ocer Campion Jesuit school who is also seasoned AHAPPY trainer.
The main agenda was to create awareness about the risk of HIV and AIDS, provide youth with avenues to participate to the efforts of combating the disease and stimulate the sharing of good practices among youth clubs. It targeted the duplication and distribution of information on sexuality and reproductive health and encouraged leadership and attention to human rights and gender equality as pertains HIV and AIDS.
The conference pulled together 319 students from; Ocer Campion Jesuit college itself, St. Joseph College- Layibi, Sacred Heart Secondary, St. Mary's College- Lacor, Hope Senior Secondary, Gulu High School, Sir Samuel Baker School, Gulu Central High School, Restore Academy School, P. P Newton High School, St. John Paul School- Laliya and Gulu College. Albeit 20 schools had received invitation from the organizers, it is 14 who turned up making it a good success with the host bringing in 39 students.
32 patrons from different schools and community influencers from Youth Alive Uganda (YAU) graced the seminar. Besides them, Mr. Okello Oweka- AIDS Support Organization (TASO) Uganda, Gulu region and Ms. Patricia Akello, formerly of YAU also were in attendance.
Originality was palpable as Sacred Heart school presented an educative song they had composed whereas Ocer Campion and P. P. Newton High School entertained through poems. A vivacious debate session ensued as St. Mary's College- Lacor locked horns with on St. Joseph College- Layibi on the topic of "Sexuality and sex education is way to go for an AIDS-free generation" enabling the students to air their views regarding HIV and AIDS prevention. Through open deliberations, important emerging issues and concerns were expressed besides challenges to the disease in Uganda. There were also two open sessions; "absence of personal values will recur HIV and AIDS new incidences" and "ARV is a challenge to HIV and AIDS prevention today"
Below are a few pictures of the event.