The Sisters of Mercy have brilliant educational projects targeted for the benefit of children living in the slums of Nairobi. The projects include institutions such as St. Catherine Primary School and St. Michael's Secondary in Nairobi's South B area. The former played host to a training of learners organized by AJAN from 12th to 16th August 2019.
In attendance were 80 students all sponsored by the Sisters of Mercy in their secondary school education or in their final years in primary school. As with the AHAPPY program, the youths were of ages 13 up to 21, some of them actively undergoing rehabilitation from drug addiction or crime. This training was a result of a request the Sisters of Mercy made to AJAN as part of mentor-ship activities they normally roll out for the youth over school holidays.
The five-day program entailed the viewing of short videos and their discussion, performances such as "spoken word", drama, presentation of life experiences, poems, group discussions and art. These activities enabled them to express their views and talents glowingly.
A guest group called Angaza Mashinani, who actually are an alumnae group of beneficiaries of the Sisters of Mercy program, entertained the students through a dram which highlighted the dangers of sexual violence in the slum society.  Francis, the founder of the group narrated his life as a drug addict, the struggles and exemplified the fact that, despite growing up in the slums, one can lead a successful life devoid of drug use or crime.
Reactions from participants
Naomi "as a girl, I always intend to be firm in what I want in life. My no should be no!. From September as I go back to school I am empowered; will abstain from sex until marriage, will avoid drugs as their use will lead me to early sexual behavior because they make me vulnerable. The videos were very helpful as they enlightened me on what is happening in the community'. 
Christopher  "I have learnt that; bad company kills dreams, STI transmission is also linked to drug use, I appreciate receiving hope which I had lost after peer pressure hooked me into drug use."
Austin Oyoo "To stay drug free, I have to engage in useful activity".
Warren ouma- "I was scared to come to the workshop. I have learnt a lot of things about AJAN, HIV, drugs, sexual activity, sex before marriage, I ask all of you here, share with our friend out there in the streets, thank you."
David Okumu– "I was scared to talk, now I am confident. I was a drug addict, taking bang, changaa, and above that I was a thief. I have learnt that I need to seek good role models. It is hard to find a mother and father pushing you to work hard, it is easy to find sugar mummy and daddy." 
Zephani odumbe "The HAPPY workshop has been a totally beneficial program not only to me but to all. I want to urge you here that you can pass the message at home, school and others. One must make a decision to change individually". 
Sr. Rosemary Macharia, who is head of projects for Sisters of Mercy, reminded the young people that life is like a graph which;  has both productive and unproductive periods, is not permanent and has an end every human being. In this case, she implored them to ensure they live purposefully making the most of their youth. She encouraged them to avoid drugs.
The trainers for the entire exercise were Pascalia Sergon, John Fisher and Steve Arodi who expressed their confidence about the students' keenness to learn and gusto towards are bright future.
Pictorial
students sit attentively during a session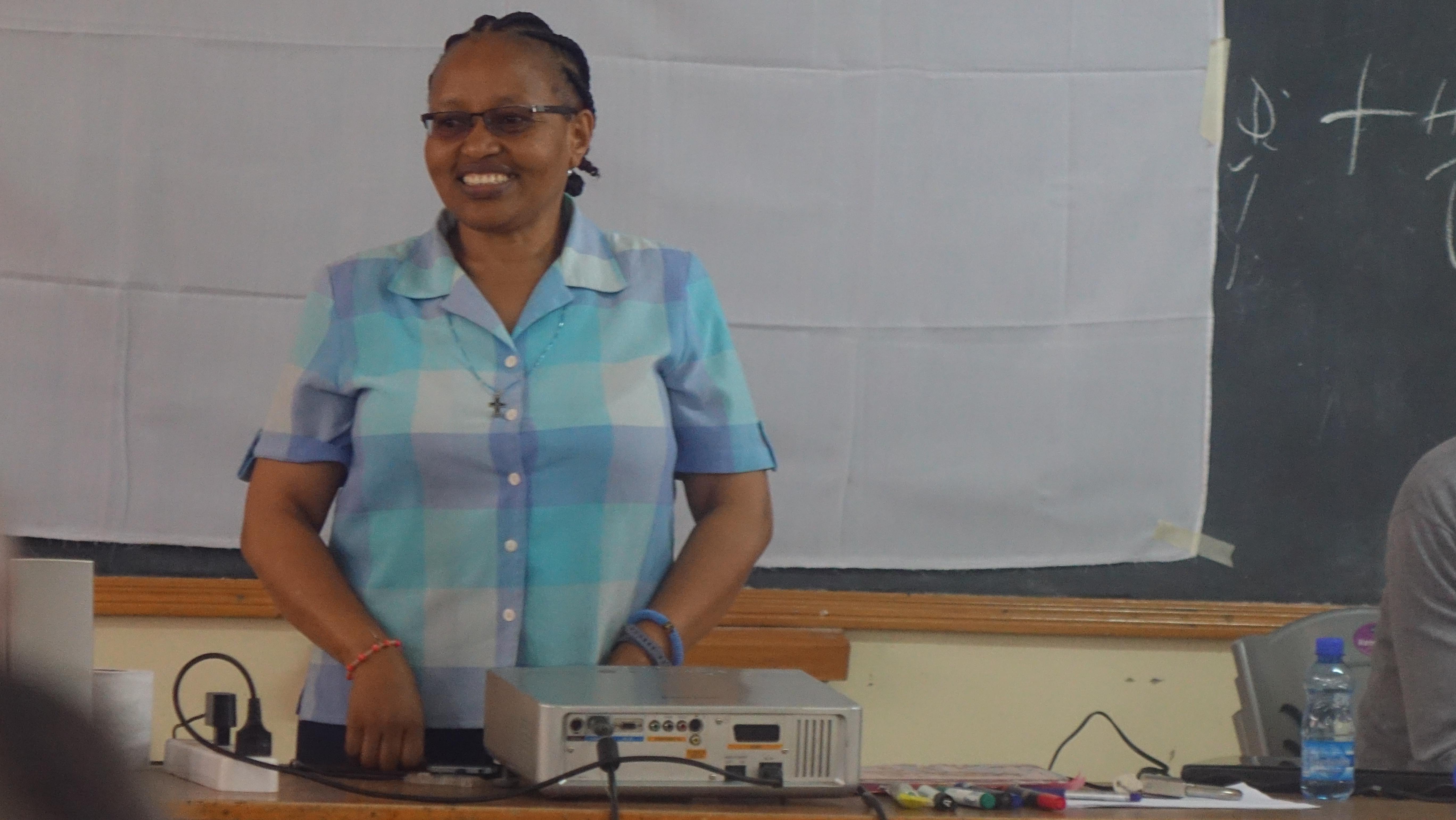 Sr. Rosemary Macharia, head of projects for Sisters of Mercy engages the youth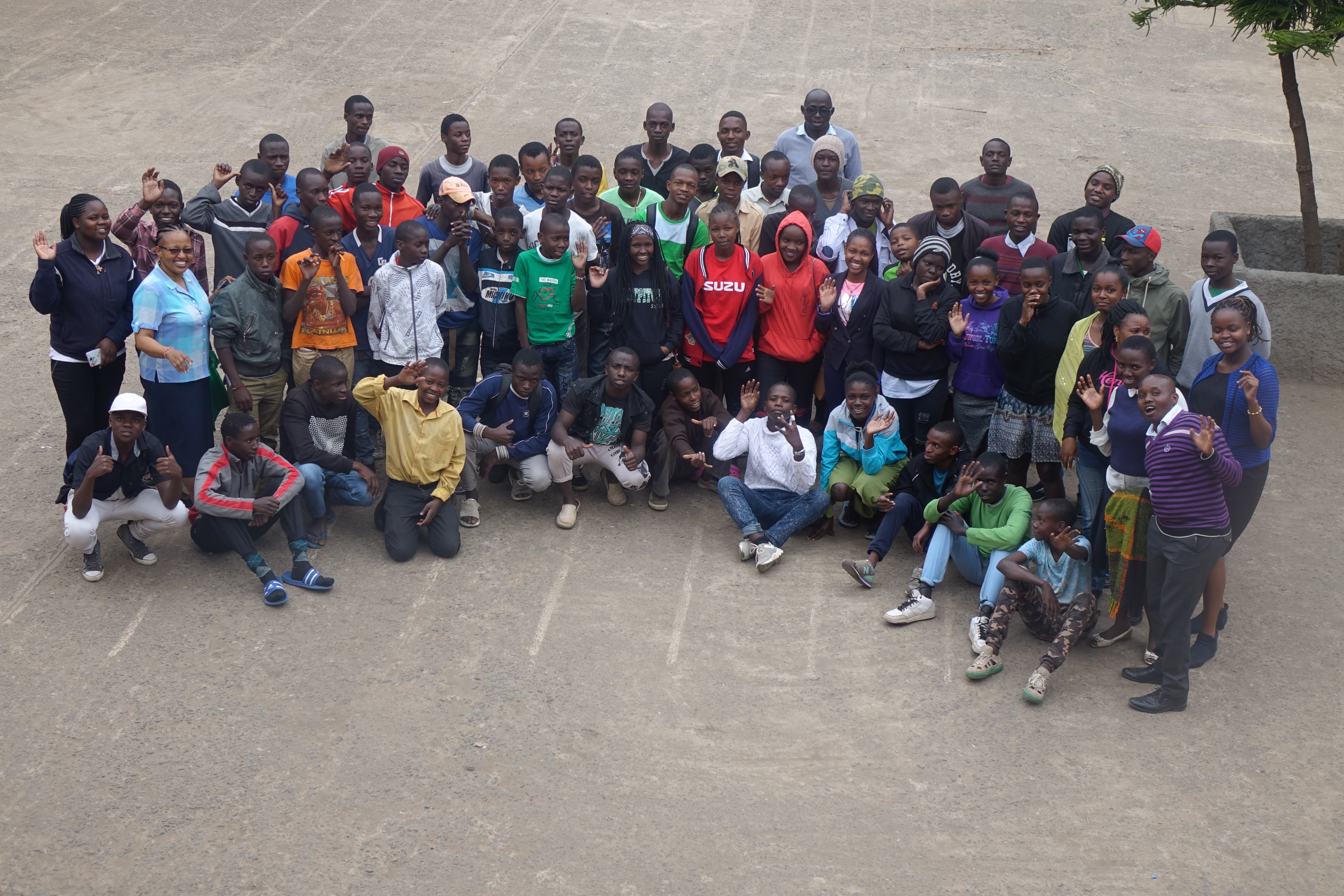 above: the students savor the moments in a group photo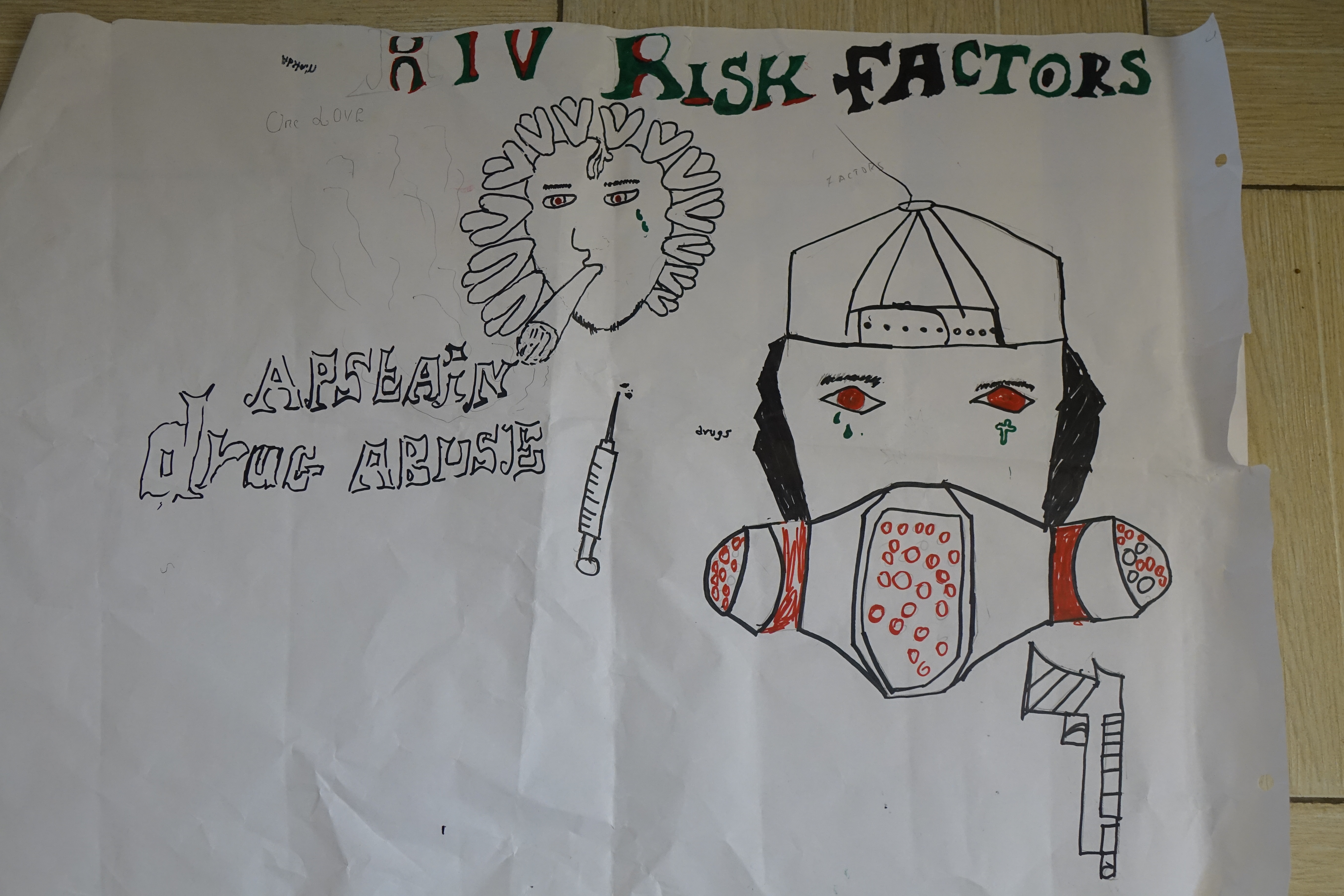 above: an artistic representation of drug use as a risk-factor in HIV and AIDS infection