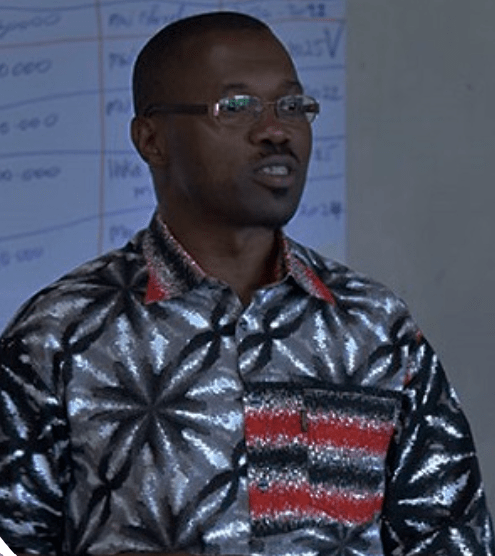 Above: Fr. Vedaste Nkeshimana, SJ., Executive Director of Yezu Mwiza, Burundi
AJAN is keen to document program activities of Jesuit social centres in sub-Saharan Africa, particularly with regard to HIV and AIDS. While the secretariat has coordinated activities and offered training such as AHAPPY from 2002 until now, social centers have undertaken own initiatives. Therefore this project is being undertaken on all centers to capture as much information as possible that can shed more light on the impact of Jesuit and collaborators' activities in fighting HIV and AIDS. Yezu Mwiza is one of social centers under the AJAN network in Africa and they responded to our inquiry form with the details that follow. 
PART A: BASIC DETAILS
The name of institution is

Yezu Mwiza Service

. The person in charge, and who responded to AJAN's inquiry form is Father Vedaste Nkeshimana, SJ. the Executive Director of the organization.
PART B: CONTEXT OF THE ORGANISATION
The name of intervention is

Multidisciplinary care for people living with HIV/AIDS.

Yezu Mwiza was created in October 2000.
The following is a brief history of the center… 
The Yezu Mwiza Service as currently known is the culmination of a project (AIDS Project) initiated by the Jesuit Refugee Service (JRS) in October 2000. The project aimed to raise awareness among displaced populations in Bujumbura City Council and those in cluster camps in rural Bujumbura province in order to prevent the spread of HIV. The strategy was to go out on the ground and educate people to protect themselves from HIV, invite them to do voluntary testing and to comply with good prevention practices.  At that time, the project covered 3 municipalities of Bujumbura City Council and 8 municipalities in the rural province of Bujumbura. People who were screened for HIV received social, spiritual and material support as well as a referral for medical care in structures accredited by the Ministry of Public Health.
In 2007, THE JRS AIDS project was to end despite the presence of HIV-positive people who were supported by the project. To continue to support these HIV-positive, vulnerable people and without further recourse for support, the Jesuit region of Rwanda-Burundi decided to make the AIDS project a social work of compassion of the Society of Jesus. Thus, on 1 January 2008, the Jesuit Region of Rwanda Burundi took over the management of the activities of the AIDS Project.  In order to limit the stigmatization and discrimination of people living with HIV, the Society of Jesus has transformed the AIDS project under the name "SERVICE YEZU MWIZA". Yezu Mwiza means "Sweet Jesus" because the center welcomes everyone without any discrimination.
In 2008, the Yezu Mwiza Service was recognized as a centre for HIV and Tuberculosis testing and management. In 2010, the Yezu Mwiza Service opened its own clinic (Clinic Martin Royackers, SJ) located in Bujumbura. After the inauguration of the clinic, the Yezu Mwiza Service expanded its activities to include a laboratory service of medical biology, Ultrasound, prevention of HIV transmission from mother to child, Pharmacy and hospital of the day.
The nature of the problem for which each project implemented was designed/is intended to solve or what made it necessary
The project's mission was to limit the spread of HIV among vulnerable populations such as refugees, the poorest among the poor, orphans and widows. These categories of people had no support from either the government, local or international organizations. In addition, the Yezu Mwiza Service's area of intervention experienced a period of great insecurity following the war in the country with the destruction of almost all health infrastructure. Almost all health centres had interrupted services.
 

What is the nature of the project? (whether it is HIV prevention, training, awareness, treatment, provision of ARVs etc.)
The Yezu Mwiza Service prevents the spread of HIV through awareness and multidisciplinary care for people living with HIV. Services include HIV testing, Bactrim prophylaxis, ARV treatment, treatment of HIV co-morbidities including tuberculosis and hepatitis, and biological follow-up of patients.
PART C: IMPACT
Where was the project carried out and how many people benefited (and many people potentially supported by beneficiaries, such as parents)?
When the AIDS project resumed in 2008, the number of people living with HIV with HIV accompanied was around 400. There were 654 orphans and other vulnerable children supported. Currently, the Yezu Mwiza Service provides multidisciplinary care to 1,019 people living with HIV, 3,144 orphans and other vulnerable children, as well as 358 people affected by leprosy. The Yezu Mwiza Service has gradually expanded its scope from Bujumbura City Council and rural Bujumbura province to covering the entire national territory with various projects and programmes.
How long did this project?
This multidisciplinary care project for people living with HIV began in 2000 by JRS and continued by the Yezu Mwiza Service to this day. The Yezu Mwiza Service was established indefinitely and will continue to support people living with HIV.
PART D: SUCCESS STORIES
Please provide us with two success stories based on the project your social centre has undertaken. These are people who have benefited from your project and/or continued to help others in their society or who have become self-reliant and have taken charge of their lives economically, socially and otherwise. Give us the contacts of these people
Testimony of Uwimana Léoncie:
"I had stopped taking the medication, and then one day the health mediators of the Yezu Mwiza Service approached me, I clearly told them that I don't want to go back there to take the medication, and then they kindly asked me to welcome them first to discuss, something I accepted. From that day on, I realized that it was my life that I was putting in danger and thanks to their advice I resumed the treatment. Today I have even become a community relay, I will help in the community to track down the lost of sight, those who have given up treatment; to screen people living with HIV without knowing it, but also to educate other PHAs to screen for viral load according to the schedule given to us by doctors."
Testimony of a couple who benefited from the mother-to-child HIV transmission prevention program:
"I thank SYM for taking care of us through the PMTCT program because we were able to give birth to 4 children without HIV. I also thank my husband because we follow this program together, if one of us forgets to take the drugs, the other reminds him, and when we get pregnant we come to the Yezu Mwiza Service (SYM), we are given advice to follow to carry out the pregnancy and we are given tests to measure the CD4 and viral load and we are given lessons " The woman testified. Her husband completed the testimony "The Yezu Mwiza service has cared for me since I was a child until today and now we have 4 healthy children thanks to the SYM PMTCT program, I greatly appreciate the way they take care of us and their teachings on how to avoid overinfection within our couple and for the protection of our children."
Please, if possible, provide us with a short video of an interview with the beneficiaries
Visit the Yezu Mwiza website on the Gallery  page:  www.yezumwiza.org
Have you organized conferences/meetings? Please tell us the number and give us some information about them
We have organized a lot of meetings and conferences so it would be almost impossible to count them.
PART E: CHALLENGES AND MITIGATION
What challenges have you faced in the projects you have undertaken? Please explain at least three key challenges you faced during the project
Stock outages of reagents for HIV testing;
Lack of essential medicines for people with other chronic hiv-related diseases;
The lack of space to accommodate all the sick;
Lack of ambulance for the evacuation of patients from the community to care facilities

How did you alleviate the problems you encountered?
These problems have been mitigated by working with administrative and health officials, working with local organizations and forging partnerships with international organizations.
PART F: THE SITUATION OF AIDS IN YOUR COMMUNITY
What is the current situation of HIV and AIDS in the community and country where you work? (Please provide us with empirical/descriptive data that you may have, information based on your centre's experience)
In Burundi, HIV infection is a generalized epidemic with an overall prevalence rate of 0.9% among the general population aged 15 to 49, and with seroprevalence 1.2% in women compared to 0.6% in men in the same age group
What more do you think needs to be done to help you better meet the needs that exist?
The urgent needs of the Yezu Mwiza Service are:
The expansion of the Martin Royackers Clinic, SJ.
Buying an ambulance to evacuate the sick
What has been your greatest success or the most significant effort of your centre since you became involved in HIV and AIDS response?
The greatest success and to have been able to work in an abandoned area where there were no workers. We were able to serve poor people and help them regain hope- Fr. Vedaste
//