From February 25 to 27, Centre Maisha organized a training workshop on HIV / AIDS and Sexual violence for Pastoral Agents of the city-vicariate of the Archdiocese of Kisangani in DR Congo.
Why to talk of this topic now while the COVID-19 pandemic and its cohort of miseries seize media headlines and gain worldwide attention?
In his intervention on "the situation of HIV infection in the world, in the Democratic Republic of Congo and in the Province of Tshopo", Dr. Olinda, Provincial Coordinator of the National AIDS Control Program, showed from some statistical data not only the dangerousness of the pandemic, but also he recalled that the objectives set by UNAIDS for 2020, namely 90% of people must know their serological status, 90% of them must be put on ARV treatment and 90% of those on treatment must have an undetectable viral load, are not reached. HIV is still killing today: an estimate of 1 million people lost their lives in 2020 and new infections continue.
We are witnesses to the desolation and suffering that HIV still causes in our Christian communities today. What could be our attitude as the Church in the face of such a tragedy?
Shared responsibility and solidarity with one another were the bulk of the pressing invitation for the World AIDS Day 2020, which must be our new way of working to defeat HIV. It is an invitation to have a renewed view, especially, this time of Lent, as Pope Francis reminds us, "a time of conversion where we renew our faith, we draw the "living water" of hope and we receive with an open heart the love of God which makes us brothers and sisters in Christ. "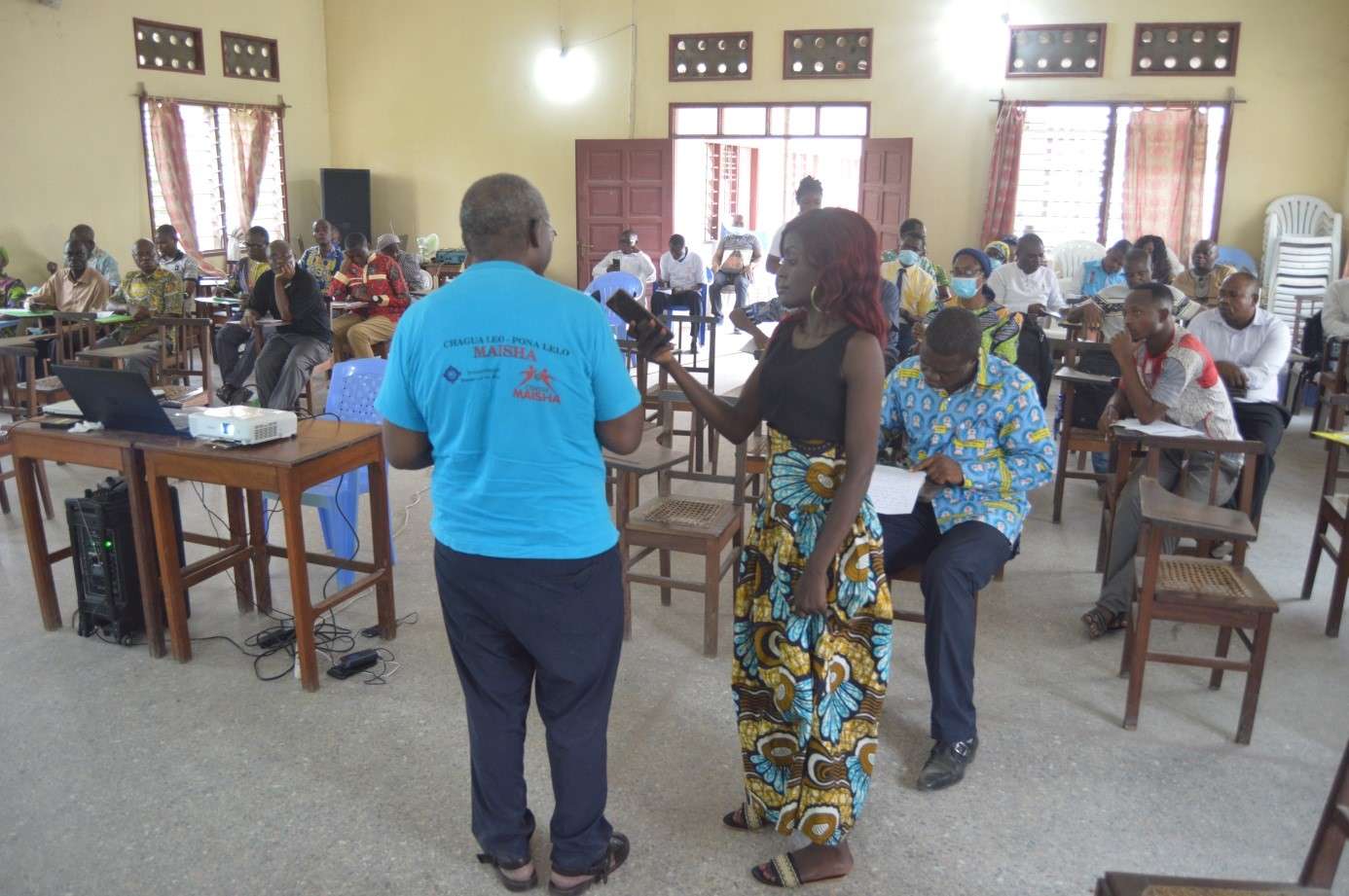 In addition, speaking of the problem of Sexual violence in the DR Congo, Dr. Roger Keta, in charge of the management of Sexual violence program at the Prince Aloalide Hospital, highlights that sexual violence has reached its peak in Kisangani. For the year 2020 there are 853 cases of sexual abuse and violence resulting in physical trauma, psychological damage and even death.
He argued that people who have tested HIV positive or who have been sexually abused live in a state of panic and, in most cases, they do not know which way to turn. Some prefer to go to "men of God" others go to the doctor to seek for help. Hence the importance of spiritual and psychological support.
The work of the accompanist or guide as Father Rigobert Nsibu, SJ reminded us in his presentation on "The contribution of Spiritual accompaniment in the care of traumatized people", will therefore be to bring the victim to awareness. From his/her current situation to liberation from guilt and, most importantly to meeting God who gives meaning to our existence. Thanks to spiritual accompaniment, the accompanied person will be then able to discover the loving and merciful God who gave his Son to humans to free them from evil through his suffering and thus, accepted his situation and decided to lead a positive life.
Our commitment, as Pastoral Agents, alongside the most underprivileged in our societies cannot suffer from any hesitation ever, since it finds its basis in Jesus' way of behaving towards them (Mark 1, 40-45; John 10, 11-21). This coincides, moreover, with the pastoral priorities of our Archdiocese of Kisangani, particularly regarding human dignity and the promotion of life.
May the grace of Lent convert our gaze not only on HIV / AIDS, but also and above all on people who experience the rage of this virus in their flesh, so we could open paths of hope for them.
It is this ever-renewed gaze that moves Centre Maisha to consider things new in Christ (2 Cor 5:17).
Fr Severin Mukoko, SJ
Centre Maisha / Kisangani DR Congo