Above: Akakpo Ghislain SJ., of CIEE-CAR, Ms. Felicienne Zongo Ouedraogo of ABE-Burkina Faso, Ms. Ornela Emefa of CEL/CCL-Togo, and Ininahazwe Christy SJ., of Yezu Mwiza-Burundi pose with the event's banner
"We are not in this for money and fame. There is something more", Fr. Orobator.
On 2nd February 2021, at the beginning of the five-day assembly of the African Jesuit AIDS Network (AJAN), Fr. Agbonkhianmeghe Orobator, S.J., the President of the Jesuit Conference of Africa and Madagascar (JCAM), highlighted the importance of praying for the light to discern what God was saying to the AJAN fraternity at this time. As part of his opening remarks, he invited all to listen keenly and be ready to execute what exactly God was calling participants to do. Listening to God speaking within each one and through the group is a fundamental attitude of Ignatian spirituality. He, therefore, invited all to find out if God was calling AJAN to focus on a different pandemic, for instance. Indeed, he invited participants to discern if the work on HIV and AIDS was completed. If not, what more was there to do to complete this work, he asked.
Above: members of AJAN outside Roussel House in Karen, Nairobi -Kenya
Participants were encouraged to reflect on the twenty years of fight against HIV and AIDS by AJAN, and what lessons could be drawn from such toil. At the opening Mass, Father Orobator, reflecting on the  story of Simeon and Anna, the two elderly prophets that encountered the infant Jesus, according to the Gospel of Luke, when he was presented by his parents in the Temple. Both Simeon and Anna had spent decades waiting on God's promises to them, to finally see them come to life in the Christ child before them. Fr. Orobator counselled listeners likewise not to give up hope just because the fight stretched across many years, but to look forward to the promise of future success and realization of the shared vision.
Below: A group discussion: Ms. Mutinta Mapulanga of St. Igantius College, Lusaka-Zambia (Leather Jacket), and on the right Fr. Patrice Ndayisenga SJ., Urumuri Centre- Kigali, Rwanda, Fr. Gregory Mulobela SJ., Chukuni Homebased Care- Zambia (white shirt), Mr. Clive Pawakwenyewa of IYD -Zimbabwe, and Fr. Michael Edomobi SJ., of Holy Family Parish -Liberia. 
He was, however, quick to add that the challenge presented by HIV and AIDS had evolved over the years, requiring more innovation and a lot of courage. While inviting his audience to embrace God's will, he cautioned them to avoid repeating the same ill-suited actions while expecting new results. In this light, he encouraged openness to new ways of seeing and doing things, as well as new ways of networking despite the shift, limitations, lethargy, and fatigue.
Stakeholders were also invited to keep in mind the Universal Apostolic Preferences (UAPs) of the Society of Jesus, promulgated in February 2020 by Fr. Arturo Sosa, SJ. These preferences were going to regulate and orient all activities of the Society of Jesus for the coming ten years. Hence, it was important to begin to discover the new path that they were creating especially to discover how they defined the engagement in the ministry of HIV and AIDS today while many are marginalized, and ecological concerns exist.
Fr. Orobator recommended mental shifts to participants as they decide which of the four UAPs responded most to AJAN's mission. The first of the two UAPs that were core to the mission was Walking with the excluded: Walk with the poor, the outcasts of the world, those whose dignity had been violated, in a mission of reconciliation and justice. The second was Journeying with the youth: accompany young people in the creation of a hope-filled future.  He further explained that the UAPs gave a horizon and a point of reference to the Society of Jesus. This is because they were the fruit of a process of discernment lasting almost two years, which brought together all Jesuits across the worl and culminated with a confirmation by Pope Francis in a meeting with Father General Arturo Sosa SJ.
Above: Fr. Orobator makes his closing remarks at conclusion of the five-day assembly, as facilitator Levi Koyio (stripped shirt) and other paticipants listen
Fr. Orobator's opening remarks and homily were buttressed by his recounting of his personal journey with Christ. In sharing his own personal journey with the group, he said that he was coming from a place of not knowing God, towards a life dedicated to God's service. "Where I stand today is because God was leading me. It is a journey of conversion. It is what God is doing. I must be more attentive to what God is doing. Let us expect God to do what God does best. Let us remember that we are not in this for fame and money. There is something more."
The work of the African Jesuit AIDS Network, AJAN is inspired by John 10:10 "…I have come that they may have life, and have it to the full.", . The Network exists to enlighten and empower African youth to stay free of HIV/AIDS and to make use of the gift of life to live purposefully. Luke 4:17 "…He has sent me to proclaim freedom for the prisoners and recovery of sight for the blind, to set the oppressed free…", also informs the mission of Jesuits across the globe.
Below: Fr. Matambura has a conversation with Sr. Mary Owens of Nyumbani, as Fr. Gregory Mulobela of Chukuni Homebased Care walks by
Fr. Ismael Matambura, S.J., the director of AJAN and host for the assembly, explained the goals of this assembly and the need for it to review work that AJAN had already accomplished in order to better plan for the future. He, in turn encouraged participants to listen to the signs of the times today in drawing from the Universal Apostolic preferences (UAPs) of the Society of Jesus, the challenges of COVID19, the United Nations' Sustainable Development Goals, and the global health priorities. He thanked all for making time to attend and gave an overview of the work and progress of the Network since its formation in 2002. In collaboration with Ms Pascalia Sergon, the AJAN Capacity Building Officer,  he highlighted the Journey of AJAN through a video presentation and examined the accomplishments and challenges. The first two days were spent in the training of the Directors and projects coordinators to enhance their implementation of projects. During this training, consultants in various specialties sought to inspire participants with new ways of doing things.
Below: Ms. Samantha Waki – lead trainer chats with Fernando C. Saldivar SJ. -Global Policy, and Advocacy JENA, and Fr. John the Baptist Anyeh Zamcho Socius to the President of JCAM and Superior of St. Ignatius Community- AFRICAMA, at the closing dinner held at Roussel House- Karen
Global trends in HIV/AIDS and other health issues- Ms. Lilian Okoth
There were also several speakers and facilitators for the assembly. Ms. Lilian Okoth of Pathfinder International, a specialist in HIV and AIDS programming, spoke about global trends in HIV, AIDS, and other health issues. She challenged the team on the need to have a common goal and highlight problems related to engaging communities so that advocacy efforts could be turned into policy. She celebrated collaborative decision making as an advantage while inviting the gathering to eschew corruption and public policies which limited the involvement of the Church in HIV/AIDS advocacy. In addition, issues that contributed to exposing young people to HIV infection, as well as HIV management and prevention were explored. Finally, she expounded on the  difficulties of dwindling public support and attention to HIV/AIDS issues, and the need for greater self-reliance by advocacy groups such as AJAN.
Above: A training session
Leadership Coaching develops Sustainable Organizations- Ms. Eileen Laskar
On her part,  Ms. Eileen Laskar, Executive Leadership Coach and Lead Trainer at CDI-Africa, elucidated a contemporary approach to leadership training which organizations employed to raise leaders from within their ranks and which could be of benefit to AJAN. This approach emphasizes coaching as a model, rather than the traditional mentoring model where the mentor simply transfers ideas and experience to the mentee. "Coaching means drawing out potential from the coachee through asking and not telling. It multiplies intelligence and opens space for improvement."Ms Laskar demonstrated how coaching could build better relationships between managers and employees, and boost loyalty and retention. Further, coaching could sustain a high-performance culture by smoothing leadership changes, improving lines of communication, and overcoming office hierarchies which stifled growth and productivity.
Below: Fr. Charles Chilufya SJ., JCAM Social Apostolate Director with Fr. Ismael Matambura SJ., and Fr. Gregory Mulobela SJ.  
Monitoring and Evaluation -a continuous activity in management- Leah Mwangi.
Another speaker, MS Leah Mwangi, a Monitoring and Evaluation consultant, explained that monitoring and evaluation should be a continuous management activity in an organizations. She advanced that regular meetings, follow up visits to areas of field work, and good records were critical for a hands-on implementation of projects. Finally, she showed how to measure progress in project implementation.
Below: From right to left- Ms. Samantha Waki, Sr. Rose Macharia of Mercy Education of Office who collaborate with AJAN, Ms. Pascalia Sergon AJAN Capacity Building Officer, and Fr. Ismael Matambura- Director of AJAN.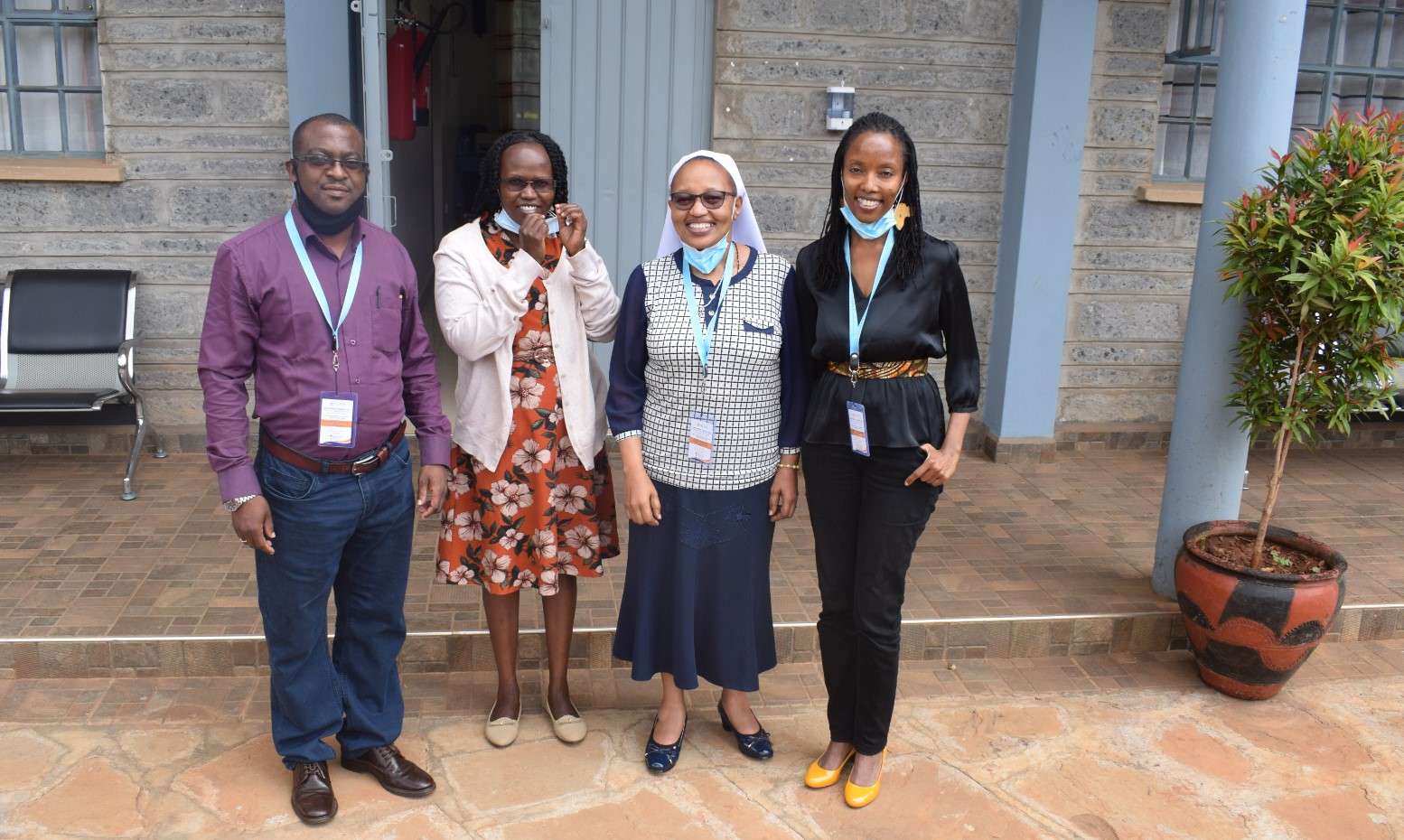 A business mindset is useful in running organizations- Ms. Samantha Waki.
On her part, Ms. Samantha Waki, a lead consultant at Righteous Oaks Nairobi described areas where having a business mindset was helpful for social works such as AJAN. She encouraged having a clear understanding of the benefits provided by the organisation;  identifying key beneficiaries of the organisation; analyzing competition offering similar services or products; and believing in the  mission of the organisation . She provided several tools that could be used to gauge these important elements. The tools were further discussed in small groups and in presentations to each other. At the end of the day, participants were empowered to see the strengths and weaknesses of their organizations in a new way, and they were encouraged to apply what they had learned to the challenges they faced. Participants also learnt new ways of evaluating priorities to ensure effectiveness in ministry. In the two days of training, questions from participants were welcomed, making the entire session a truly participatory process.
Below: Mr. Johnfisher Ondigo,  a teacher at St. Aloysius Gonzaga Sec. Sch. Nairobi, and seasoned trainer of AJAN HIV AIDS Prevention Program for Youth (AHAPPY) program. 
Review of current strategic plan, and looking ahead to developing one for 2021-2025.
The three days that followed were dedicated to the most important process for the Assembly, which was  the revision of AJAN's strategic plan. The moderators for this session were Dr. Levi Koiyo from the University of Nairobi, Dr. Solomon Okumu of Catholic University, and Ms. Samantha Waki. First, moderators led participants through an evaluation of AJAN's last strategic review. The members appraised the network's work over the last five years, acknowledging challenges faced and lessons learnt. A situation analysis  comprising a critical evaluation of the internal and external conditions affecting the work of AJAN was done in group discussions and later presented to the large group and the information was collated. Further, the team did a 'visioning' where they projected their common mission into the future.
AJAN's mission as the principal organ facilitating and coordinating Jesuits efforts in the fight against HIV and AIDS in Africa is achieved through Networking, Communication, Capacity Building, Advocacy, as well as Resource Mobilization and Fundraising. Further,  group activities took centre stage as participants shared their knowledge, experiences, and ideas in decision making. The rationale was to understand the needs or gap that exist, how to have a greater impact, and how to take advantage of expertise within the Jesuits and partners' network .
Above: Ms. Lilian Waweru -Catholic  Prison Chaplain, Nyahururu Diocese-Kenya, shares ideas with Fr. Orobator
A time chart was created indicating how a new strategic plan would bebe conceived. A proposal draft was to be ready and given to the various centres within two weeks. The centeres, on their part,  were to then give  feedback after which a draft would be ready for approval.
The hub and spokes
At the conclusion of the five-day Assembly, Fr. Orobator used the image of the hub and spokes of a bicycle wheel to explain the need for the network to work together for goals to be achieved. "The wheel cannot function if the spokes are not in good condition. The hub would not be useful. They work together to make movement possible. This how an efficient network should work." With that wisdom, Fr. Orobator wished all the participants well and blessed their journeys as they returned home to continue their work, inspired by the time they had spent together at the 2021 AJAN Assembly.
Below: Caleb Mwamisi and Fernando Saldivar SJ.
Story by Caleb Mwamisi -Communication and Research Officer AJAN