Above: Prof. Enock Omonge takes a question during the training event at Little Sisters of St. Joseph, Karen.
AJAN taps into a humble practitioner's analytical mind
To gain in new skills, knowledge and understanding and to develop aptitudes in the hope of enhancing competency, performance and effectiveness, AJAN occasionally holds trainings and seminars for its staff.
On Saturday 11th May 2019, the Little daughters of St. Joseph, Karen hosted a team of AJAN staff, affiliates and a trainer whose agenda was to try and dissect the current situation as pertains HIV and AIDS in Africa. Seven participants were from AJAN, five of these staffs and two guests at AJAN. The guests; Fr. Ubong from Nigeria and Gloriose from Urumuri center, Rwanda are on Tertianship and internship respectively. Eight other members were from Nyumbani's Lea Toto HIV/AIDS community outreach program, Upendo and Uzima centers who are all associated with AJAN. For AJAN and its affiliates a better understanding of HIV and AIDS and continual learning is paramount.
"We hope to learn and benefit from the perspective of a practitioner in the area of HIV and AIDS", said Fr. Elphege during the planning period preceding the undertaking. As it were, the one-day exercise did not disappoint. At its inception, AJAN was deemed to be an organization that depended on scientific research to inform its decision-making and programs. It remains an organization that avidly designs and implements projects with a thorough understanding of the actual gaps that exist and the needs of the people on the ground.
The enthusiastic invitees managed to spare the day and the calm trainer turned up determined to appease their palpable expectation. Dr. Enock Omonge, a physician with over 30 years' experience treating patients at Kenya's foremost hospital Kenyatta National Hospital and at other major hospitals in Kenya was the invited trainer. The doctor has a wealth of experience being a professor at the University of Nairobi school of medicine but more importantly for AJAN; has been involved in the field of research for HIV and AIDS for over 20 years now.
The trainer's presentation heavily depended on reliable research findings in order to rebut our brief. The need identified included concern about a growing sentiment among actors in the fight against HIV and AIDS, that the epidemic is no longer of the great distress and danger it posed in recent years. The AJAN team also wanted to pick out new trends in the domain today. We wanted to identify gaps that exist in interventions today and how programs can be made to have greater efficacy for the benefit of those infected and or affected by the virus. We also hoped to hear the physicians take on recent research findings in this area and whether there is need for 'Africa-based' research to compare to other results.
Up to the challenge and armed with scientific findings, Dr. Omonge set us off by basics about the constantly mutating virus and a bit of history bring us to today.  He proceeded to make a sobering presentation that, based on the sentinel survey, Kenya has a 5.4% prevalence whereby 1.6 million are infected with HIV. 900,000 people are on antiretroviral therapy, which means that over 700,000 are not using ARVs. According to Dr. Omonge, early treatment improves survival benefits. According to the government of Kenya through Ministry of Health in 2018 June, there were more infections among youth aged 18-24 years. Young women were also at great risk of infection especially those at child bearing age making a serious implication on HIV transmission and pregnancy.
The doctor availed a map showing the distribution of the virus across the globe. The regions curved out by UNAIDS are; North America and West Europe, West and Central Africa, East and South Africa and Asia and the Pacific. Apparently, the HIV virus exists in various strains, 'A', 'B' and 'C' and its impact varies.
New trends in fight against HIV and AIDS
While the availability of ARVs has transformed the HIV infection into a manageable chronic condition, the Professor introduced the paradigm "HIV and the family" in setting agenda by positing a new realization: that there is a new focus in dealing with the virus in Africa and across the world whereby the family as a whole categorically becomes the center of awareness creation, HIV-testing and treatment.
The professor made the observation that there are new trends in the fight including; a changing patient, changing practice, changing treatment paradigm and changing target. All must be treated, the old must also be targeted and the efficacy, safety and convenience of treatment are being taken as very important. Besides, diagnosis and prevention, treatment through viral suppression is also critical in today's approach in subduing the scourge.
In order to reduce HIV infections in Kenya, Africa and globally there is a new approach developed over the last three or so years whereby; married couples, young adults, people aged below 50 years and pregnant mothers are targeted. The suppression of viral load, has been shown through research, to be a dependable way of actually reducing HIV infection. The lower the viral load, the lower the probability of transmission of the disease.
New trends in treatment include developments in pre-exposure prophylaxis (PrEP). This is whereby ARV medication is taken before a sexual event to negate chances of HIV infection. It is also used in discordant couples in attempts to conceive, with close direction of a doctor. There are criteria set for PrEP and people need to be made aware of this.
Socioeconomic dimension of HIV and AIDS
There is no doubt that HIV and AIDS normally lead to a depletion of household income earning capacity and fewer than ever options of attaining socioeconomic capacity. Women and girl are likeliest the most affected by the drastic changes in income. HIV and AIDS exacerbates or is exacerbated by prevailing economic conditions. The disease does not only kill people and expand social inequalities, it also can, if unchecked, divide societies.
The reliability of research findings
In response to our questions about research, the Professor submitted that there are standards set for research which ensures that undertakings give most reliable results. These include double-blind technique. They ensure that there is no biasness in research, for instance. It is these standards that should be laid emphasis on and not necessarily the interests of those behind the research. There is also collaboration of researchers/medics involved in research across the world and which involves proper scrutiny and up to scratch process of research.
Below: participants group photo taken at end of session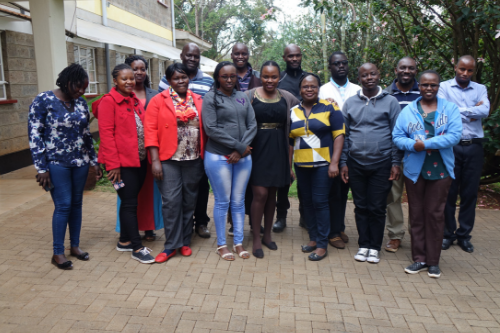 At the end of the training, participants were happy and they will definitely be excited to have the opportunity of another one in the future. The session gave much fodder to munch and many said they were enriched by this initiative by AJAN leadership.