Form four students of Our Lady of Mercy- Ngarariga Girls Secondary school had a distinctive day as AJAN in partnership with Sisters of Mercy Education and World Youth Alliance (WYA) visited them on 14 November 2020. Sitting in Limuru- Nakuru County of Kenya, which is at about 2500 meters above sea level, the area is piercingly cold.
Nevertheless, the frosty weather and the vexation of COVID19 to education structures appear to do little to dampen the spirits of the young adults as was shown by their enthusiasm as they received the visitors.
The day began with brief introductions led by Sr. Rose Macharia, and then a presentation on 'sexuality' by Wangeci of the WYA. Fr. Ismael Matambura followed with a powerful delivery on 'I am a beloved creature of God'.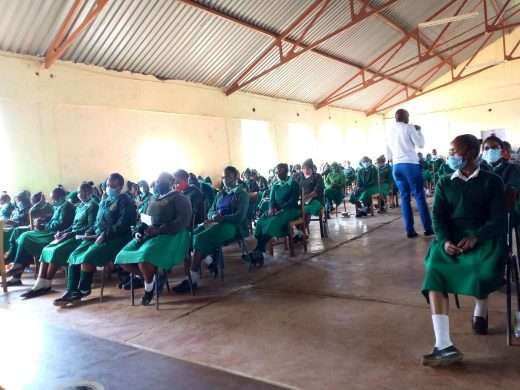 In the afternoon, Caleb Mwamisi and Steve Ogolla engaged the ladies in an interactive session on 'HIV AIDS and Drug abuse'. The students had submitted a myriad of questions seeking guidance on some issues affecting their lives which were responded to as the team sought to help out. Sr. Rose, undertook to work with the headmistress of the school to avail counselors in the near future to give further help to the girls who will be leaving school in less than a month.
It was a funfilled day as the girls also danced to the resounding Jerusalema song. COVID19 protocols were in place.