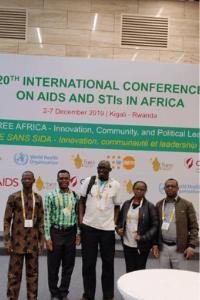 Held after every two years to review achievements in the fight against HIV & AIDS as well as STIs, identify gaps and map away forward, ICASA is a very important gathering of African governments, civil societies, local and international agencies, stakeholders and communities. From 1st December 2019 up to 7th December 2019 AJAN representatives participated in the conference. The point of reference for all engagement was to examine work done in order to achieve global sustainable development goals by 2030, UNAIDS goals of 90:90:90 and strategic goals of ending HIV & AIDS in Africa. The theme was "HIV free Africa".
The fight against HIV &AIDS has taken many forms and involved many actors from grassroot organization both community-based and faith-based, private and public agencies and international structures, all working towards supporting communities in the world. AJAN, a member of ICASA was present through its own secretariat and; Centre Maisha (Democratic Republic of Congo), Urumuri Centre (Rwanda), Ocer Campion (Uganda) and St. Aloysius Gonzaga (Kenya) who are part of its network in Africa.
The AJAN team joined a pre-conference about engaging the youth in the fight against HIV & AIDS as it sought to hear their voice and concerns on matters of HIV prevention and eradication. Interventions targeting the youth were said to be very limited and there is lack of youth-friendly spaces for free and candid expression. For the fight against HIV infection among the youth to succeed there is need to move the youth to the center of decision and policy- making. AJAN team participated in different tracks that resonated to needs of different situations.
A message from OALAD- Organization of African First Ladies Development, unraveled that HIV infection among the girl/child remains a worrying trend and that the fight should be shifted to deal effectively with issues of vulnerability; GBV, Denial of property rights and certain cultural practices. A session title Virology Education: Stigma and discrimination established a call to the scientific community to avail widely injectable drugs, monthly or quarterly tablets that can reduce the impact of stigma and discrimination.
A presentation by UNAIDS Sustaining the AIDS response: leadership, finance and accountability highlighted that some achievements have been made in the battle against HIV which if not sustained financially will be lost. The Global funds made a recent call for resources mobilization which met an encouraging response from donors. UNAIDS called for women and girls' empowerment and investment in their development. African leaders were urged to put in place universal health coverage and youth be mobilized to become key actors. There is an urgent need to consider mobilising local funds for sustainability purposes.
The keynote address at close of the first day was delivered by the President of the Republic of Rwanda, H.E Paul Kagame with ICASA president 2019, Prof. John Idoko and Rwanda Minister for Health, Dr Diane Gashumba also speaking. "It requires political commitment and sustainable focus on building strong public health institutions to address the health and development needs of the people.", said Kagame.
Prof Idiko reiterated that visionary leadership and collaboration have been central to the achievements made in the response to HIV & AIDS thus far in Africa pointing out that despite the progress made, for instance the widening array of effective HIV prevention tools, domestic financing for the response remains sub-optimal. New HIV infections remain unacceptably high among the young people. Rwanda Minister for Health said that, in order to sustain gains made over the last few years, there is a need to further focus attention to the vulnerable groups.
The empowerment of people was also discussed in a session managed by PEPFAR. The organization submitted that, like UN agencies in the next two years, it will transition to engaging directly with Local partners in order to transition them from dependence to self-reliance through promotion of community ownership and community-led initiatives. It seeks to support HIV epidemic control and prevention that are operated and owned by local institutions and governments. The goal of PEPFAR is to move local partners to 70% self-reliant by FY20. It was also agreed that the community too has a role to play in a demanding generation and therefore we must empower it with knowledge of HIV, examine their context and demand appropriate service from them. Development of HIV vaccine was identified as key in a process designed to discuss ways to be developed to overcome the virus.
The new UNAIDS executive director, Winnie Byanyima called for a fruitful and accountable leadership in Africa in order to offer the appropriate health services to the population. She acknowledged that huge progress has been done but there is still a huge challenge ahead of us. African government should prioritise health sector planning in its governance and uphold equitable fundamental human rights.
From the perspective of innovation and creativity to advance in the battle against the epidemic, the new thinking includes: taking up the message of prevention to a new level, new forums for instance, using prevention messages as a political message, political will to take up prevention message gives it a new strength and can take us to the end race, making of HIV prevention message as a financial issue, reduce violence on key population -these will drive away, leaders to do what is right and not what is popular and funds be given to state.