On Sunday 14th March 2021, over 100 youths drawn from Nazarene University, Holy Spirit Parish (Kandisi), St. Mary Catholic Church (Ongata Rongai), and Sacred Heart of Jesus Parish (Rongai town) went through part of the AJAN HIV and AIDS Prevention Program for Youth (AHAPPY). The youths from the learning institution and parishes were hosted by the Holy Spirit Parish, Kandisi. The various churches participating belong to Ngong Deanery and by extension Ngong Diocese of the Catholic Church in Kenya.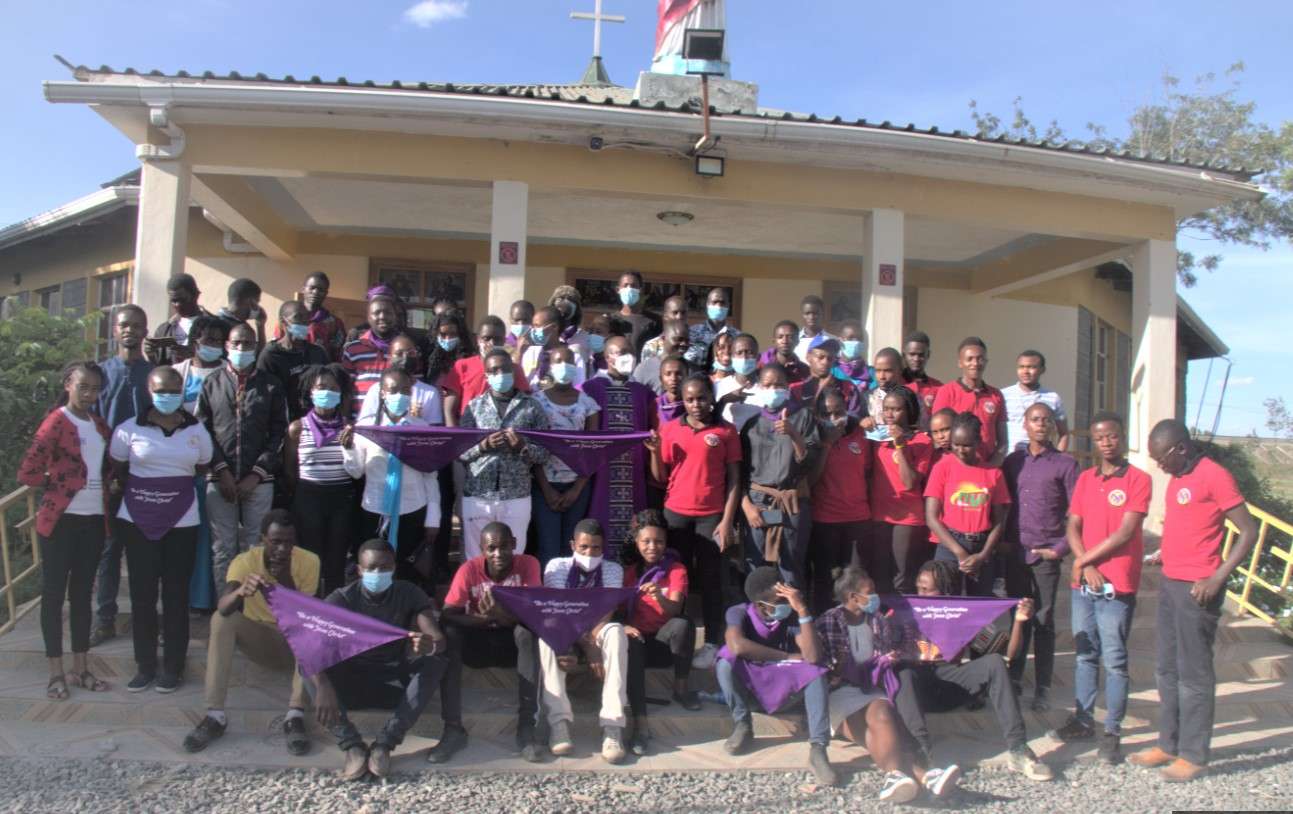 Above: group of students who underwent AHAPPY training on 14th March 2021 at Holy Spirit Parish, Kandisi, Kajiado
Father Etuse Y. Bernard Assedi, CJM., the youth Chaplain for Ngong Deanery under which the churches fall, had organized a walk dubbed "Be a Happy Generation with Jesus Christ" for this Lent period. The walk happened in the morning from various locations and towards Kandisi.
Above: Trainer Pascalia Sergon makes a point 
AHAPPY trainers, Pascalia Sergon who oversees Capacity Building at AJAN, Rosemary Thung'u a part-time lecturer at Tangaza College Nairobi, and Caleb Mwamisi Communication and Research officer at AJAN, were joined by Jacob, a Kenya Defence Forces officer as they undertook to introduce AHAPPY to the youth despite a challenge of time. As by the nature of curriculum requires, AHAPPY normally takes least five days to offer but in this case only a day was available. Therefore, the trainers devised a few select topics about which to engage the youth so as to try leave them with a positive impact.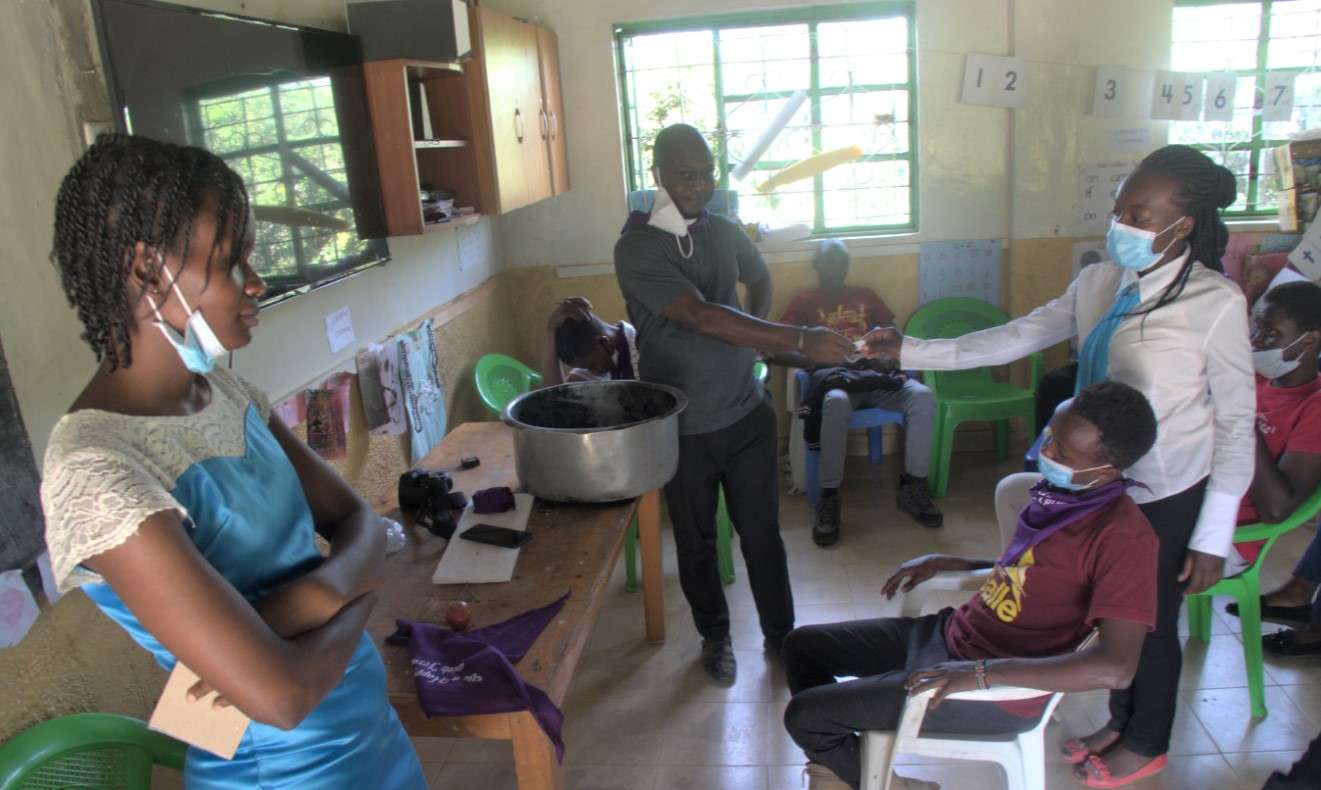 Above: Father Bernard receives a young lady's self-evaluation note to burn during the healing session as Rosemary Thung'u looks on
Rosemary Thung'u kicked the training off with a session aimed at helping the young people to "awaken to themselves". She led the youth in reminding themselves of the five dimensions of a human being; physical, intellectual, emotional, spiritual, and social and their individual responsibilities towards their own life purpose, and towards societal responsibilities. The important of the realization of God's good plan for every individual was discussed.
above: Army officer Jacob Lekolua responds to questions from youth
Pascalia and Caleb would take over the next session as they explored "Facing the world we live in" during which drug abuse, HIV and AIDS and other challenges that have nipped the dreams of young people at the bud, were dissected. Questions were posed to the youth which led to deeper engagement as, in turn, the youth asked theirs. A video "Wrong moves", was screened and the learning points were deduced mostly by the students.  Pascalia explained the danger the youth face as they seek to achieve dreams God has laid out in their hearts because of drugs. She explained how drugs exacerbate the situation of HIV AIDS. Pascalia has a wealth of experience in training young people across Africa spanning over 10 years.
Real life experiences used to induce life skills to youth
Caleb shared his life experience; of losing a close relative to AIDS, and another to suicide  while encouraging the young people to cultivate the fortitude to wade through the murky waters of life they may face. He also explained the need to be careful about the glamorous life presented by music, television, and peer pressure, giving the example of late rap musician Tupac Shakur, who despite being talented, was gunned down at the tender age of 25 owing to a violent and confrontational approach to life. Basically, students input controlled the discussion as they shared their thoughts about challenges and possible solutions.
Jacob talked about his life growing up as a Moran in Samburu, which is Kenya's arid northern region, and how he ended up in the military. The region has little development; lacking critical infrastructure like roads and health facilities, and so Jacob, who hailed from a poor background and struggled to find school fees, narrated how the hand of God saw him proceed through college and be recruited into the military. He normally speaks to youth in the northern province and across Kenya whenever he finds time. The students at Kandisi asked him numerous questions about how he maneuvered through the difficult life, and about life in military service which he took time to respond to. The matter of terrorism came up, with the military man explaining the danger of recruitment into criminal gangs and the need to lead a calculated and God-fearing lifestyle. He emphasized the role of models for a youth to look up and have more security in facing life.
Below: Fr. Bernard leaves the church after saying mass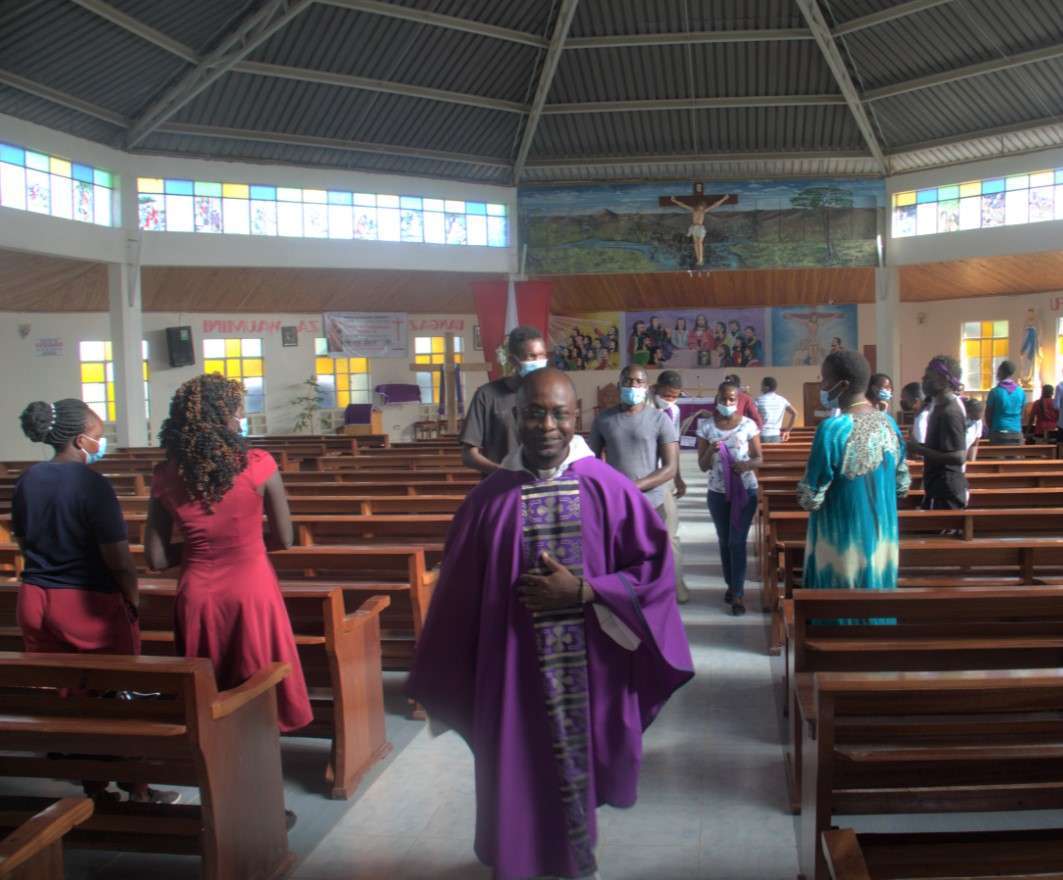 Healing session helps student get over the past and look into the future
A "Healing session" which Rosemary facilitated in the afternoon helped students reflect on their lives as they were led to forgive those who might have disappointed or hurt them, those they had hurt and laying it all down before God. They were given pieces of paper to write these issues, and Fr. Bernard led them to set the papers to flame signifying an end of a phase and the beginning of a new one filled with hope. To cap the day, Fr. Bernard said mass in the afternoon at the Holy Spirit Parish for the youths and visitors.
" l appreciated the openness of the discussions, the ability of the facilitators in building confidence in the youth who were able to share their stories and learn easier. I realize that the youth want really to have bright futures, but many do not know how to avoid snares that lead to possible failure and collapse of the future. This formation has opened the eyes of many of them to walk with prudence and with insurance toward a happy generation", said Fr. Bernard. Many of the participants expressed their gratitude and hoped that the sessions can be held again with more time allocated.
Below: participants take a breather