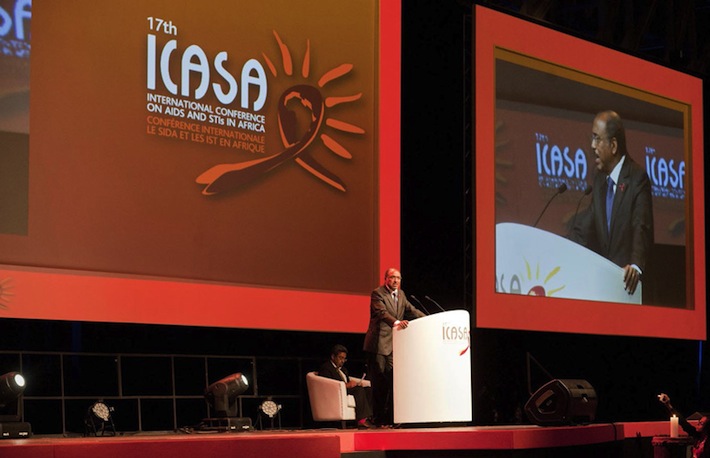 UNAIDS Director Michel Sidibé told faith-based organisations (FBOs) gathered at ICASA on 8 December that he felt "proud" when he heard the appeal made by Pope Francis on World AIDS Day that medication will be available for all those who need.
Addressing a session organised by FBOs at the conference currently under way in Cape Town, Sidibé said: "I was proud to read the pope's statement because he called precisely that no one should die because they do not have access to services that exist today, to life-saving medicine that exists today."
On 1 December, during his Sunday Angelus address, Pope Francis marked World AIDS Day by expressing solidarity with people affected by HIV/AIDS, with missionaries, health workers, physicians and researchers. He appealed: "May every sick person, without exception, have access to the care he or she needs."
Sidibé recalled the pope's words when he told the FBOs they play a key role in the AIDS response, not only because they deliver a good part of it, but also because of their unwavering focus on justice, compassion and inclusion.
"Even if sometimes we are not using the same words or the same approaches, we have a shared vision and this vision is how we can fight to ensure that social justice, protection of the weak and inclusion are part of our agenda," said Sidibé.
"Whenever I have had the privilege to work with FBOs, I have found these items on top of your agenda: how to reach people who don't have access to services and how we can ensure all this is done through compassion."
Sidibé said no one was better placed than FBOs to lobby for the rights of nearly 14 million people living with HIV in Africa who don't yet have access to treatment. "Their lives are hanging in the balance," he said.
As he heaped praise on the contribution of FBOs, the UNAIDS director said they introduced urgently needed elements to the AIDS scene – the "heart", the value of "caring" and a different set of human resources.
Sidibé called FBOs "the last barricade against social exclusion", saying they were on the frontlines of the orphans' crisis and of the fight against stigma and discrimination and that they cared for people left behind by government services.
"Believe me," he said, "if you close your doors, people suffering from injustice and exclusion, who go underground, will not have any other hope, any other place to go. Please make sure you remain the last barricade against exclusion."
But despite the great contribution of FBOs, which deliver an estimated 40% of the response to AIDS, TB and malaria, they get only a miserly share of the funds available to do this work. Sidibé promised to advocate for FBOs with the Global Fund as he acknowledged: "Most church organizations are working hard but are not being able to access resources so we need to see how to strengthen the network of FBOs."
Sidibé reminded the FBOs that AIDS remained "unfinished business" and said: "It is not time for us to take our foot off the pedal but rather to redouble our efforts and to make sure we can go for our shared dream."
One way of expressing the dream – as Sidibé did at Saturday's opening ceremony – is to have "the three zeros" as a separate goal on the post-2015 development agenda.
He told the FBOs: "You should really bring your voice strongly, to say to world leaders, we have been making progress but AIDS is still unfinished business. You can help us to create a new social movement, to mobilize your young people, your church, so that we will have a new post-2015 goal and not find HIV/AIDS has become an orphan disease. If this happens the crisis will be terrible and we will not find the resources to help us achieve our goal."
Again Sidibé assured the FBOs of the crucial role they have to play: "We can bring billions of dollars but they will not change society, it is your networks and capacities that will bring about change."