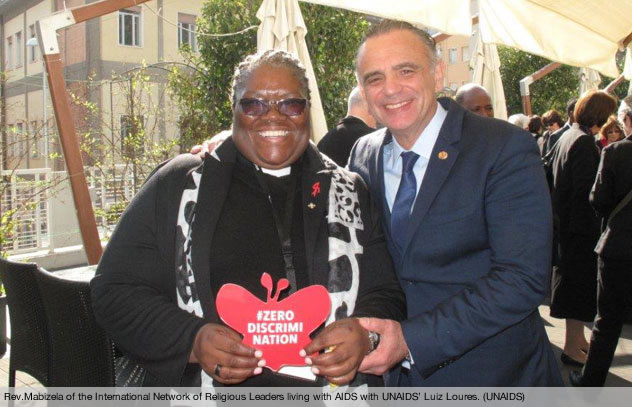 Faith-based organisations (FBOs) studied how to boost their work in giving life-saving care to people with HIV in poor countries during a recent consultation meeting in Rome organised by Caritas and UNAIDS.
The meeting, held on 25 and 26 February 2014, laid down an AIDS roadmap to strengthen collaboration and to increase access to funding and resources to scale-up treatment. AJAN was represented by director Paterne Mombe SJ.
"We are entering a new phase where we can see the beginning of the end of AIDS," Dr Luiz Loures, Deputy Executive Director of UNAIDS, told the meeting's participants.
"The faith communities have the scale and have the means to move us forward. You care about dignity of the person – and it is only this unique combination of access to drugs and dignity that can provide the necessary drive to reach the end of AIDS."
Loures emphasized that collaboration with faith-based organisations in dramatically scaling up treatment is essential. He said churches and other FBOs are the largest single group providing healthcare services for HIV, contributing up to 50% of facility-based and community care in some countries.
Key outcomes of the consultation included increased research on the results of faith-based HIV treatment programs, strategic communication about the good work done by these organisations, as well as more intensive networking and sharing of good practice models.
The Rome consultation was related to UNAIDS' Treatment 2015 initiative which aims to reach at least 15 million people living with HIV with antiretroviral treatment by 2015.
The over 100 participants represented diverse Christian faith traditions, UNAIDS, Vatican offices, governments, the medical and scientific community, and the diplomatic corps accredited to the Holy See.
Challenges that were identified included the need for significant financial investment in treatment services, closing the gap in testing and treating children, technical capacity building, the inclusion of FBOs in decision making at national levels, and ensuring coordination rather than duplication of services in areas supported by multiple donors.