On Thursday, July 15, the Association Les Benevoles De L'esperance Centre (ABE) was honoured to host Fr. Ludovic Tougma and Sr. Adeline, who was also accompanied by ten teenagers. The teenagers were in tow to learn more and be reminded about the reality of HIV. President of ABE,  Mrs. ZONGO Félicienne and the secretary Mrs. KABRE Odette gladly received the visitors.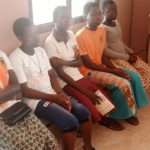 After greetings and introductions, the story of ABE was narrated to them as they were brought to speed about the activities that the ABE carries out towards helping people infected with HIV. Present where Participants were reminded about the ways of infection, means of prevention, the virus mechanism in the body, and the purpose and the benefits of Anti-retroviral treatment. The visiting teens listened carefully to the presentations, and asked various questions thus obtaining deeper knowledge about HIV and AIDS.
The young people then encountered women PLHIV who are beneficiaries of ABE. The women bravely narrated stories of their experiences with the disease. Some were magnanimous enough to tell how they reacted after learning of their positive result, and how they responded to rejection and stigma they were subjected to by their families and neighbours.
The session started at 10 am and ended at 1 p.m, but not before a food distribution exercise for Muslim women PLHIVA to celebrate Tabaski.