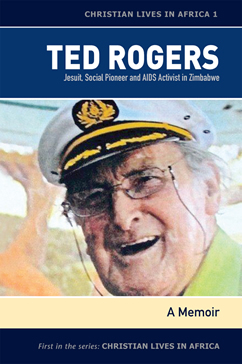 The book, Ted Rogers: Jesuit, Social Pioneer and AIDS Activist in Zimbabwe – A Memoir, was launched in the UK on 10 May.
Fr Ted is a British Jesuit who spent decades pioneering social change in Zimbabwe. Among his many achievements are the founding of the high-quality School of Social Work at the University of Zimbabwe and his visionary response to the AIDS crisis in this country. He co-founded the Jesuit AIDS Project (JAP) in 1997 to stem the destruction caused by AIDS by reaching Zimbabwean young people through peer education.
Jesuit Missions UK sponsored the launch of Fr Ted's memoirs at the Sacred Heart Parish Hall in Wimbledon."This was a very happy occasion as most of those who came were friends and associates from Zimbabwe, including two lecturers from the School of Social Work," said Fr Ted.
One guest Fr Ted was particularly happy to see was Thandi Savanhu, one of his first social work students in Zimbabwe, who now holds a senior position in social services in the UK.
This was the third event for Fr Ted's book, which was already launched in August 2012 in South Africa and in September 2012 in Zimbabwe. However, it was the first launch he attended in person: now in his late eighties, Fr Ted left Africa in mid-2011 and lives in a Jesuit retirement home in the UK.
The book can be purchased from Jesuit Missions or Redemptorist Publications, Alphonsus House, Chawton, Hampshire GU38 3HQ.