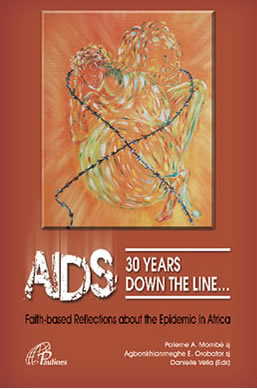 AIDS, 30 Years Down the Line – Faith-based Reflections about the Epidemic in Africa, the latest book to be co-published by the African Jesuit AIDS Network (AJAN) and Paulines Publications Africa, is out.
A glimpse at the contents of the book published in early January 2013 recalls the African saying: "To kill an elephant requires many arrows." Contributors scrutinize the response to AIDS from a vast array of perspectives, revealing a keen awareness that a multi-faceted understanding of the disease is integral to an effective and sustainable response.
There are 29 papers from Jesuits and others involved in the Catholic Church's response to AIDS in Africa, both scholars and practitioners, with approaches ranging from theological, philosophical and sociological, to perspectives of human rights and ethics, as well the immediate outlook of care and treatment. The editors are the AJAN Coordinator, Paterne Mombé SJ, Agbonkhianmeghe E. Orobator SJ and Danielle Vella.
"The authors and editors of this book have rendered a great service to all who are genuinely concerned about this pandemic, not only within, but also beyond the confines of the Catholic Church," the Archbishop of Abuja, John Olurunfemi Onaiyekan, writes in the book foreword.
"We must commend the great effort put into this collection of very high-quality material… It offers a rich menu for all who wish to acquaint themselves with current conversations about HIV/AIDS from the perspectives of faith-based organisations and initiatives in the Catholic Church."
The book is divided into four sections: setting a framework of novel perspectives; socio-economic and cultural viewpoints; human rights and ethical considerations; a burning issue: universal access; the Church response in theory and practice.
Several themes emerge, chiefly the challenges faced, successes and failings in attempting to meet them and suggestions for the way forward. Featuring prominently are calls for education to prevent the spread of HIV and stigma, especially education for girls; making justice and social equity tools against the pandemic; an approach built on human rights and Christian ethics; and the comprehensive management of the needs of individuals, families and communities, with an emphasis on the pastoral and spiritual needs of those affected.
Readers of the book will take away many insights with them. The one voiced by Bishop Onaiyekan in his foreword was a confirmation of "our hope that there is life after HIV. The struggle must continue."
To order your copy of AIDS, 30 Years Down the Line, please send an email to books@jesuitaids.net and we'll be in touch. Thank you!