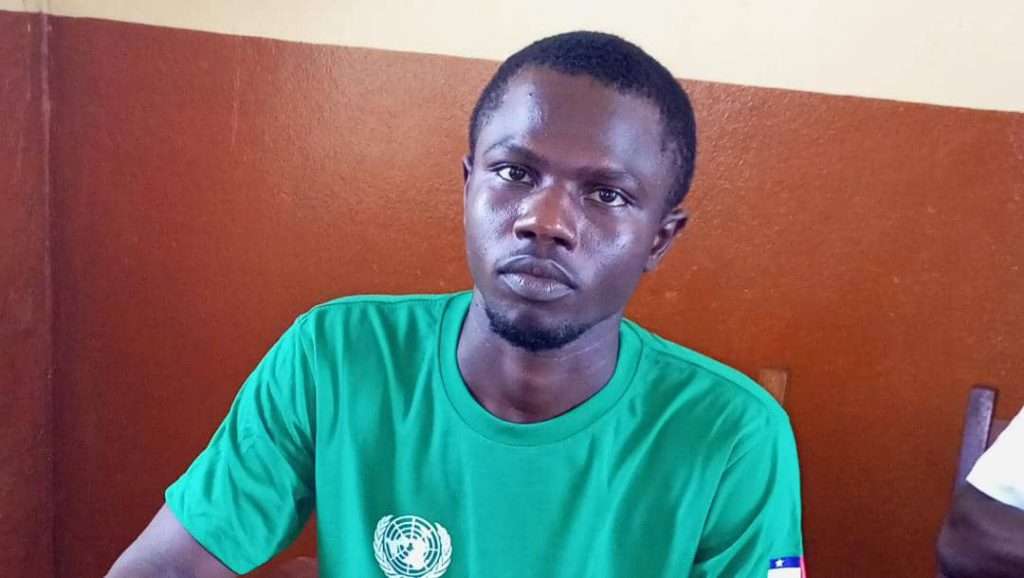 My name is BENAM SERVICE Stanislas Henry; Student in year of Master 2 in human rights and humanitarian action at the University of Bangui.
I was trained in pair education during the year 2021 when Father Ghislain AKAKPO coordinator of the Center for Information, Education and Listening of the Center Catholique Universitaire.
During my journey as a member of Club Info Santé 8 at the Walombe Law School, I learned a lot of things that have shaped the person I have become today. I lack words to say what the stages I went through as a Peer-Educator within the CIEE-CCU of Bangui.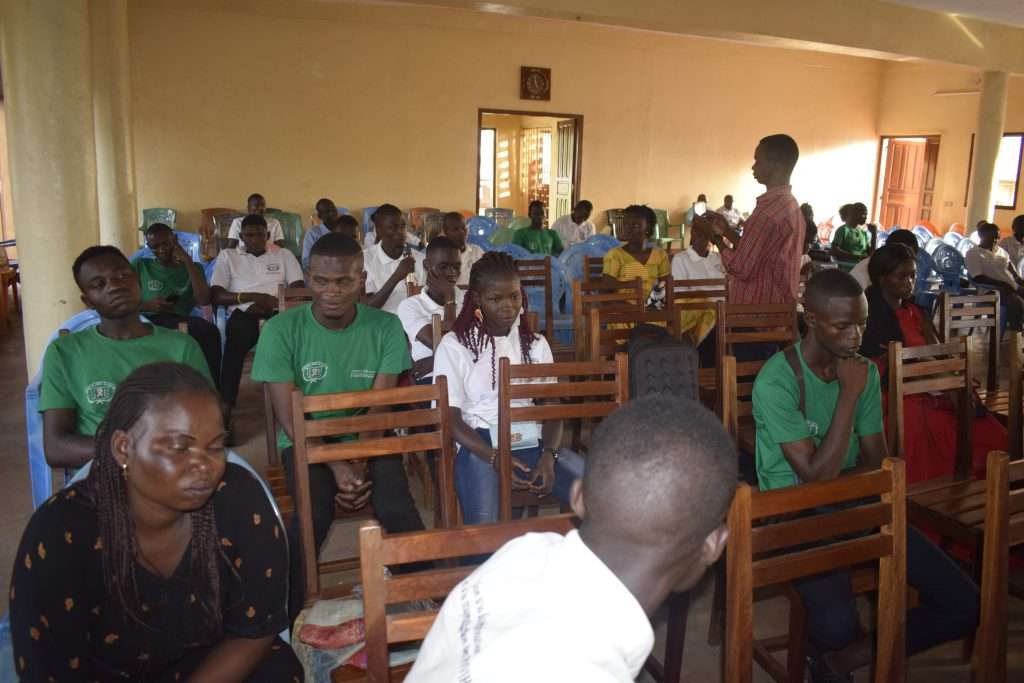 Before becoming a peer educator, I had a rather limited outlook on life. Everything was limited to my family. I had an expanded sense of interpersonal relationships. I only cared about myself. I was on the wrong track, actually. I had to join the CIEE-CCU to open my eyes to the world. I then discover the potential hidden in me and the joy of being with people who are not members of my family. Thanks to the initiation to Ignatian spirituality, I discover a deep dimension of my being which will motivate my commitment to the service of others. The educational talks have always been my delight, because they debate questions of the lives of young people never addressed in our faculties. It is a place of human education where I had access to a lot of knowledge.
Apart from the CIEE-CCU training and activities, one of the things that has favored my personal boom is the atmosphere I have when I am with my peers and the animation that reigns between us. By accepting each other as members of the same family whose father and mother is the CIEE, I cannot remain with worries that harm my heart because when I am with others I forget my worries and my sorrows.
Being a Peer Educator has really changed a lot of things in me and the life we lead in this environment has really changed the course of my life. I admit I have been transformed. My flippant, selfish, and lawless behavior of the past has undergone a profound transformation. Peer-Education gave me the opportunity to see everything new and to accept others. It is for me a place where we learn values and principles. Where I have always been urged to behave responsibly within my company; I changed and I brought something more, I make a difference in my living environment thanks to the CIEE-CCU.
Also, our luck is that we have a reference manual: AHAPPY GENERATION. This manual has played a big role in my personal and educational transformation. It is of unparalleled richness.
The values integrated as a Peer-Educator, and the change in my behavior, my diligence and my pragmatism made me become the leader of my Health Info Club. Being a leader is no small feat. But I was able to keep my head held high thanks to the support and leadership of our coordinator Father Charles SOMDA.
My life has been totally transformed over the past three years. It is a grace to be a peer educator. I would like to thank the CIEE-CCU of Bangui and the African Jesuit Network against AIDS for their initiatives and their multiple forms of support aimed at creating young people capable of shaping the lives of their fellow human beings; young people who bear witness through responsible behavior and who see all things new.
By,
Stanislas Henry BENAM SERVICE
Leader of the Health Info Club 8