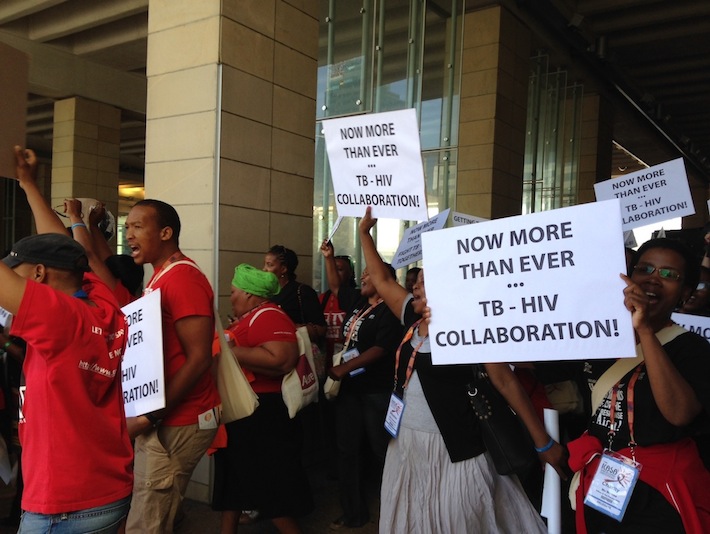 Community-based approaches are essential to reach 14 million people in Africa who still don't have access to life-saving antiretroviral treatment (ART), said UNAIDS Director Michel Sidibé.
In a compelling address during a UNAIDS session at ICASA on 9 November about scaling up treatment coverage, Sidibé made it clear that rollout was not just about distributing pills but about life, dignity and human rights.
"We still have 14 million people waiting," Sidibé told the high-level session that included the Global Fund to Fight AIDS, Malaria and TB and PEPFAR (President's Emergency Plan for AIDS Relief) on the panel. "We can't afford to let them down. Access to treatment is a human right and not just a matter of giving pills to people."
Sidibé said treatment had to reach people where they were – which is not in reality as obvious as it sounds. He urged key decision-makers to view AIDS treatment as a means of revolutionising the continent's health systems and to turn to community models of care.
"It is critical to reach people not reached today by our services. We cannot end AIDS if we do not bring such people to the centre of our approach," he said. "It's not only an issue of treatment but of transforming our health approach, of seeing how we can use our community health workers to simplify things and reach people where they are."
For Sidibé, the shift towards the community is imperative – otherwise "we'll never reach the 14 million" – and must be matched by innovation in the technical sphere to produce user-friendly equipment. "We need to democratize access to tools, going for technology that will help us improve our approach by making sure communities can use it."
The UNAIDS Director said reaching the goal of having 15 million people on ART by 2015 would avoid 1.4 million deaths, help to prevent 500,000 new infections and protect seven million children from becoming orphans.
These impressive gains mean that money spent on treatment is not being wasted: "Treatment is not just about giving pills but about restoring dignity. We are making sure we save lives. Treatment is not a cost for me, it is an investment, and we need to show this to our ministers of finance and our high-level decision makers. If we can avoid 1.4 million deaths, for me nothing can be more worthy than avoiding those unnecessary deaths."
Taking the floor after Sidibé, Global Fund Executive Director Mark Dybel took a step away from an exclusive focus on treatment although he admitted it is hugely important. "We are not going to end the epidemic by just putting people on treatment," he said. "It is part of the solution but not all of it."
Looking on treatment as prevention, Dybel cited studies to cast doubt on the "real-life effectiveness" of ART as prevention. While initial research conducted among discordant couples reported a 96% reduction in transmission, other studies have revealed rates that are far lower.
"Uganda has universal access to treatment and increasing incidence rates," said Dybel. "This doesn't mean treatment is not effective but you cannot get to zero infections with treatment alone. And we have the data to prove it."
AJAN representatives at ICASA who attended the session were enthusiastic about what they heard.
"Sidibé was very good, saying treatment is not just about taking pills, it is about keeping people alive, about restoring their dignity as – and this is my addition – human beings created by God," said Kelly Michelo SJ, coordinator of the home-based care program of Chikuni in rural Zambia.
"We need a paradigm shift that addresses critical enablers and, in this way, we can reach more people where they are."